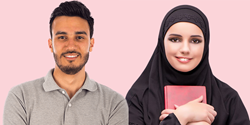 The amount of online dating users that are Muslim by religion and between the ages of 18 and 24 has increased more than 50% in the last four years
MIAMI (PRWEB) May 14, 2018
If there is any religion that takes dating, marriage, and relationships in general very seriously, it would be Islam. Considering Muslims make about one-quarter of the world's population – 1.8 billion as of 2015, to be exact – it can be really difficult to actually practice Muslim dating, whether online or offline.
Still, the amount of online dating users that are Muslim by religion and between the ages of 18 and 24 has increased more than 50% in the last four years. This is mostly thanks to certain internet platforms that specialize in helping Muslims find love and friends with more ease. MuslimVows definitely belongs to this group and the company's most recent data shows that over 30% of the website's population are people in their 20s.
On the other hand, this is one of the first Muslim dating sites that actually went out and has spread its reach over more than one country. Currently, MuslimVows.com hold a platform in more than 120 countries from Bangladesh to Zimbabwe. It also tries to cater to a multitude of preferences, which means both casual dating and marriage are real options on this website.
You can find MuslimVows at https://www.muslimvows.com/ at any time and from one of 120+ countries in the world.