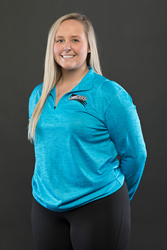 KALAMAZOO, Mich. (PRWEB) May 14, 2018
Members of the Kalamazoo Valley Community College's 2018 Softball Team captured the Michigan Community College Athletic Association (MCCAA) Western Conference's top softball awards, including Coach of the Year, Player of the Year and Freshman of the Year.
Second year head coach Morgan VanderBor was voted by her peers as Coach of the Year while shortstop Emma Nuyen and pitcher Rachel Pijaszek were recognized as Co-Players of the Year. Pijaszek, a Portage Central High School graduate, was also was named Freshman of the Year and to the All-Freshman Team.
Nuyen, of Otsego, Pijaszek and catcher/pitcher Dylan King were named to the All-Region, All MCCAA Team as well as the First Team All-Conference. King is a graduate of Constantine High School. Left handed outfielder Ally Sinclair, from Hartford, joined the trio on the First Team All-Conference.
Outfielder Amber Mazahem from Mattawan, catcher and second baseman Adaisha Heidtman from Portage, utility player Nicolle Larson from Coloma, second baseman Jordyn Geik from Gull Lake
and outfielder Maddie Bell from Portage all received Honorable All-Conference recognition.
Athletic Director Russ Panico said he is proud of the softball team and individual player accomplishments.
"The team remained flexible with their schedules and played through adverse weather and multiple makeup games due to weather postponements, remaining positive and energetic always," Panico said. "I'm especially proud of Head Coach Morgan VanderBor's recognition by her fellow coaches within the league as MCCAA Western Conference Coach of Year."
The Lady Cougars finished the MCCAA Western Conference standings in second place with a 21-7 record and an overall record of 29-14.