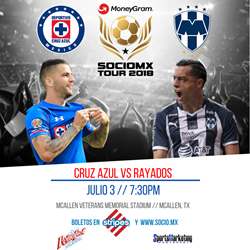 "SocioMX is all about creating worthwhile memories through positive experiences for fans all over the United States. It is a great pleasure to witness families and friends unified through a sport that is exponentially growing in the country" - Javier Villalobos, President of Sports Marketing M
(PRWEB) May 14, 2018
SocioMX announces a vibrant game between Cruz Azul FC and CF Monterrey on July 3rd at the McAllen Veterans Memorial Stadium in McAllen, TX. SocioMX is constantly striving to bring the best Mexican soccer sporting events for their loyal fans in the United States. As the President of Sports Marketing Monterrey, Javier Villalobos, mentioned, "SocioMX is all about creating worthwhile memories through positive experiences for fans all over the United States. It is a great pleasure to witness families and friends unified through a sport that is exponentially growing in the country".
Cruz Azul FC has won eight Liga MX titles and CF Monterrey has won four Liga MX titles, both teams have a high popularity in Mexico. The soccer match will be enjoyed by thousands of fans at the stadium and by millions of fans via the Univision and ESPN live broadcasts.
The public on-sale will take place on Monday, May 14 at 12:00PM (CT) online at http://www.socio.mx and at participating Stripes Convenience Stores starting on Friday, May 18.
The following date and site has been set for the MoneyGram SocioMX Tour game:
Tuesday, July 3, 2018
Cruz Azul vs. CF Monterrey
McAllen, TX
McAllen Veterans Memorial Stadium
Time: 7:30PM (CT)
On-Sale: Tickets will be available for purchase on May 14 at 12:00PM (CT) through http://www.socio.mx and at participating Stripes Convenience Stores staring on Friday, May 18.
About SocioMX
A trademark owned by Sports Marketing Monterrey. SocioMX is the only platform that enables fans to interact and connect on a deep level with their favorite Clubs in multiple ways, from digital, merchandising and experiential marketing.
For more information, please visit http://www.socio.mx, at facebook.com/socioMXfan or on twitter @Socio_MX.
About Sports Marketing Monterrey
Leading Hispanic Sports Marketing and INC. 500 company. Founded in the city of Monterrey, Mexico by successful brothers Jorge and Javier Villalobos, with offices in the United States. Sports Marketing Monterrey is focused on helping companies, Non-profit organizations, Pro-Teams, athletes, and governments connect with the Hispanic market.
The agency currently represents over 47 professional athletes worldwide and promotes professional soccer match games with the TOP elite teams from Mexico and South America. Sports Marketing Monterrey also holds the exclusive rights of elite Soccer Teams in United States for marketing, merchandising, match games, among many other categories.
At an International level, Sports Marketing Monterrey provides consulting and business development services to companies, governments and sports clubs.
For more information: info@sportsmarketing.com.mx
Of. 214.466.7330 http://www.sportsmarketing.com.mx Twitter @SportsMKTMTY
About MoneyGram International, Inc.
MoneyGram is a global provider of innovative money transfer and payment services and is recognized worldwide as a financial connection to friends and family. Whether online, or through a mobile device, at a kiosk or in a local store, we connect consumers any way that is convenient for them. We also provide bill payment services, issue money orders and process official checks in select markets. More information about MoneyGram International, Inc. is available at moneygram.com.
Learn more about MoneyGram on moneygram.com
Facebook: https://www.facebook.com/moneygram