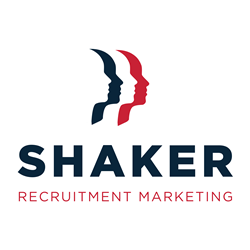 OAK PARK, Ill. (PRWEB) May 14, 2018
Shaker announced today that seasoned recruitment marketing strategist, Peter Carr, will join their team as Vice President. His appointment reflects Shaker's commitment to strengthening its position as a global leader in the talent acquisition space and their plans for future growth.
"Effective employer brand activation strategies are no longer a nice-to-have. They're essential for organizations who compete to attract and retain top talent," said Peter Carr. "Shaker has been a recruitment marketing leader for nearly 70 years, and it's clear we share a passion for successfully partnering with clients to achieve their objectives. I'm looking forward to collaborating with Shaker's roster of incredible clients to create best-in-class recruitment programming."
Carr's appointment to Shaker's leadership team showcases the agency's dedication to providing class-leading recruitment marketing services to their over 1,700 national and global clients. The full-service marketing agency, which specializes in assisting clients in identifying, attracting and retaining right-fit talent, believes that Carr's experience and prowess in the industry will give them a compelling advantage in the recruitment marketing space.
"We're thrilled Peter is joining the Shaker team. His deep knowledge of the talent acquisition space is second to none, and we're confident he's going to be a huge asset to our growing team and strategic plan," said Joe Shaker Jr., President of Shaker Recruitment Marketing. "He's an experienced advocate for building successful employer brands and will serve as a true partner to our clients."
Since their establishment in 1951, Shaker has been a pioneer in recruitment marketing with a mission of providing world-class solutions that deliver results. For more information about Shaker Recruitment Marketing and the innovative work they're doing on behalf of their clients, please visit Shaker.com.
About Shaker:
Shaker is a full-service recruitment marketing agency specializing in highly customized solutions for attracting and retaining the right talent, including authentic employer branding, exceptional creative, and innovative digital experiences. Celebrating 65 years in the industry, Shaker offers unbiased recommendations informed by a familial business model of trust, passion, and an unwavering commitment to clients' success. Visit Shaker.com to learn more.