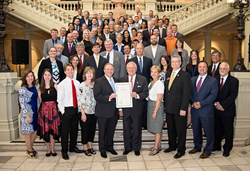 "Based on the rapid shift of consumers away from retail shopping, we developed the www.BuyFromGA.com website," said Mr. Jason Moss, CEO of the Georgia Manufacturing Alliance
ATLANTA (PRWEB) May 15, 2018
On June 20, 2018, Governor Nathan Deal will present the "Buy from Georgia" month proclamation to the members of the Georgia Manufacturing Alliance and manufacturing leaders from across the state. This will be the 5th year that the Governor has proclaimed July as Buy From Georgia month to help promote manufacturers and the goods they produce in Georgia.
Studies show that the average consumer cannot name three things that are made in their state. Georgia Manufacturing Alliance has developed a tool that helps connect the general consumer to products manufactured in Georgia. The http://www.BuyFromGA.com website features over 1,000 items that are manufactured in our state and consumers can purchase these products via this site using their Amazon account.
"Based on the rapid shift of consumers away from retail shopping, we developed the http://www.BuyFromGA.com website," said Mr. Jason Moss, CEO of the Georgia Manufacturing Alliance. "Since Amazon is the most successful and trusted online resource, shoppers who purchase through the http://www.BuyFromGA.com website receive all of the benefits of shopping through Amazon while supporting jobs and manufacturers in Georgia."
Over 380,000 people are employed in the 9,500 manufacturing facilities in Georgia. Thousands of jobs are directly impacted as a result of educating consumers about the importance of buying Georgia made products. Some examples of products that are featured on http://www.BuyFromGA.com include: Ameriglo, Brawny Paper Towels, Bridgestone Golf Balls, Claxton Fruit Cakes, Clorox, Duracell Batteries, Hostess Snacks, Kumho Tires, HON Office Furniture, Okabashi Shoes, Primo Grills, Purina Dog Food, Quilted Northern Tissue, Savannah Bee Honey, SunnyD, Solo Cups, Wrigleys Gum, and Zoom Fishing Baits.
"June 20th will be a significant day for manufacturers in our state," said Jason Moss. "During the month on July we will tour companies that manufacturer consumer products such as Club Car, Ghost Coast Distillery, HON Office Products, Savannah Bee and Sunny Delight. We will continue to provide resources for our manufacturers to learn best business practices, connect with local suppliers, and promote their goods and services."
To register for the Buy From Georgia proclamation event with Governor Deal, please visit: http://www.georgiamanufacturingalliance.com/events/2018-buy-from-ga-proclamation-with-governor-deal---atlanta- There is no charge to attend, but registration is required. Press is encouraged to attend.
About Georgia Manufacturing Alliance (GMA):
GMA is a membership-based industry organization founded in 2008 to support Georgia's manufacturing community. GMA provides monthly plant tours, educational sessions, tradeshows, and unique networking opportunities designed to help make profitable business connections for its members. The Georgia Manufacturing Directory, Georgia Manufacturing Summit, Georgia Manufacturing Calendar, and Georgia Manufacturing Job Board are additional resources produced by GMA. To learn more about the organization, membership, and upcoming events, please call 770-338-0051 or visit their website at http://www.GeorgiaManufacturingAlliance.com.