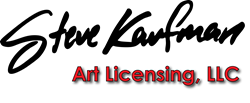 LONG BEACH, N.Y. (PRWEB) May 16, 2018
American Pop Art, Inc. and Steve Kaufman Art Licensing LLC are excited to announce they have signed an exclusive agreement with Becker Associates to license the artwork of Steve Kaufman for children's toys and merchandise. This collaboration presents an opportunity for children to discover the fun and creative essence of Kaufman's artwork.
Steve Kaufman, aka "SAK" (1960-2010), was a charismatic pop artist, humanitarian, and pioneer of Neo Pop Art. He painted icons and trends that stirred the American spirit. Kaufman started his career as an assistant to Andy Warhol, where he learned the art of silk screening.
"As an American Pop Artist, Steve was a believer in working with and helping youth that needed a hand, says Dana Blum, Director of Sales and Marketing, American Pop Art Inc. and Steve Kaufman Art Licensing LLC. "It's only fitting that Becker Associates, a leader in the toy world, bring on an artist that believed in being a strong leader and a charitable person for the young. I look forward to seeing many great things happen."
Becker Associates is an award-winning global management agency that offers popular brands, patented products, and proprietary concepts for global licensing and distribution. It is headed by CEO Patti Becker.
"Patti runs what is probably the best toy license management company in the United States," Lutz Müller, President, Klosters Trading Corporation.
Widely regarded as industry experts, Becker Associates will have full access to Steve Kaufman's library of paintings for the customized development of child-friendly merchandise so kids can connect with some of their favorite characters.
"Patti has tremendous creativity, vision and energy. She is a powerful and successful force in the world of branding, licensing and new concepts," says Diana Vachier, Owner of American Pop Art Inc. and Steve Kaufman Art Licensing LLC. "Being as protective of Steve's legacy as we are, we have total confidence that
Steve's art will be in great hands with Patti Becker and Becker Associates. We're very excited about working with Patti."
Becker Associates is thrilled to represent Steve Kaufman Art for branded children's merchandise. The vivid colors, well-known characters and iconic pop culture objects, such as Coke bottles and Marvel characters, offer very exciting possibilities for licensing and merchandising in many kids categories. We look forward to offering these Warhol-influenced images to our customers. Preview these images at BeckerAssoc.com.
About American Pop Art Inc.
American Pop Art Inc., established in 2000 and incorporated in 2005, is honored and proud to work exclusively with the art of Steve Kaufman (SAK). Owner Diana Vachier was a friend and former assistant to Steve Kaufman, and the sole heir to the artist's licensing rights. Kaufman passed away in 2010 at the age of 49, but his art continues to be exhibited, placed into museums, homes and corporations.
http://www.americanpopartinc.com
About Steve Kaufman Art Licensing LLC
Steve Kaufman Art Licensing LLC provides corporate advertising and media clients with access to all vivid art, iconic images, name, and personal brand of the late American pop artist Steve Alan Kaufman (SAK).
About Anjar & Becker Associates
Anjar & Becker Associates (http://www.BeckerAssoc.com) have licensed ~800 children's products representing sales of nearly $2 billion globally, including classics such as Gumby & Pokey, Barrel of Monkeys, Nerf Ping Pong, and Battle Dome. Anjar & Becker Associates help commercialize IP, offering popular brands, patented products and proprietary concepts for global licensing and distribution. Becker Associates, a global consulting, licensing, strategic marketing and brand management agency, recently acquired digital media company, FlockU. Some of the world's leading brands and properties rely on Anjar & Becker Associates to help them enter and expand into new markets and build successful and innovative global licensing programs. Clients and licensees include many of the largest toy and entertainment companies, as well as many smaller entrepreneurs. Anjar was the global licensor for Othello, excluding Japan, for 40 years. In February 2018, the founder of Anjar, James R. Becker, became the 74th inductee into the prestigious Toy Industry Hall of Fame, joining Walt Disney, George Lucas, and the founders of Hasbro, Lego, and Mattel.
Contact:
Patti Becker
CEO, Becker Associates LLC
PBecker(at)BeckerAssoc.com
Contact:
Diana Vachier
Owner, American Pop Art Inc. and Steve Kaufman Art Licensing LLC
dianavachier(at)stevekaufmanartlicensing.com
Contact:
Dana Blum
Director Sales and Marketing, American Pop Art Inc. and Steve Kaufman Art Licensing LLC
dana.blum(at)stevekaufmanartlicensing.com