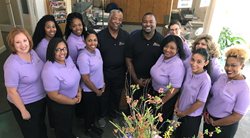 Jackson, MS (PRWEB) May 15, 2018
Drs. Jonathan Nash and Kenneth Nash are raising awareness of the harmful effect of untreated gingivitis and are welcoming residents in Jackson, MS for gum disease consultations to contact their modern practice, Nash Family Dentistry in Vicksburg, MS. Offering the latest in gentle, minimally invasive, laser technology, this dental team offers high-end, convenient service in a comfortable environment for those experiencing all stages of periodontal disease and related gingival issues.
According to the Centers for Disease Control and Prevention, nearly 50 percent of American adults have some form of gum disease, making it one of the primary reasons for adults to visit a highly trained dentist. Without intervention using contemporary, safe equipment and protocols like laser gum therapy, gum disease can become a chronic, dangerous condition. In fact, research has shown links between advanced gum disease and other systemic concerns including heart disease, stroke, diabetes and obesity.
Dental lasers give Drs. Nash the ability to more successfully and precisely target and destroy the bacteria trapped deep inside the periodontal pockets that break down healthy soft tissue, hard tissue and bone matter. In addition, lasers can remove deteriorating gingiva, making way for gum regeneration in some cases.
Interestingly, the majority of patients report that lasers not only provide a better quality of gum therapy remediation, but also offer a more comfortable solution to solving the problems of gum disease. Because of their inherent speed and accuracy, lasers enable dentists to decrease the length of treatments without affecting the quality of service.
Drs. Nash encourage anyone with symptoms of early, moderate or severe gum disease in the Jackson, MS area to call their dental office. Such signs may include bad breath, bleeding gums, deep pink or dark red gums, tender or swollen gums, loose teeth and gum recession. Nash Family Dentistry can be reached at 601-634-1812.
About the Practice
Nash Family Dentistry is a general practice offering personalized dental care for patients in Vicksburg, MS. Dr. Kenneth Nash, Dr. Jonathan Nash and their team provide patients with the latest in dental technology in a comfortable and welcoming environment. Drs. Nash offer a variety of services including laser dentistry, dental implants, and cosmetic dentistry services, among others. To learn more about the services offered at Nash Family Dentistry please visit the website at http://www.vicksburgdentist.com or call 601-634-1812 to schedule an appointment.