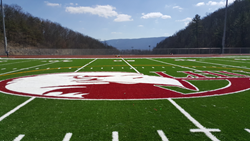 I am extremely happy that Lock Haven University made the decision to replace our old playing surface with one of the safest products in the industry
LOCK HAVEN, Pa. (PRWEB) May 15, 2018
When the Lock Haven University football team takes the field this fall at Hubert Jack Stadium, they will play on one of the most technologically advanced surfaces in the world. On top of that, they will be making tackles and scoring touchdowns on the safest product in the industry.
Lock Haven has replaced its former synthetic turf field with AstroTurf's Trionic fiber — a breakthrough blend of blend polyethylene (PE) and nylon fibers that is quickly revolutionizing the synthetic turf world. To produce Trionic fiber, polyethylene and nylon molecules are fused into a copolymer and then extruded as a single fiber. The process chemically blends polyethylene with nylon, providing the softness of current fibers with the durability, strength and resilience of nylon.
These qualities played a key role in Lock Haven's decision to replace its field with AstroTurf Trionic.
"I am extremely happy that Lock Haven University made the decision to replace our old playing surface with one of the safest products in the industry — AstroTurf," said Dr. Tom Gioglio, Lock Haven Director of Athletics. "The AstroTurf life cycle cost was reasonably priced for being a state of the art product that utilizes Trionic fiber. I was also impressed with the knowledgeable sales team that ensured the timely execution of the installation so we did not have to reschedule our events."
The Bald Eagles christen the field on Sept. 8 with their home opener football game against Clarion University. Jack Stadium, which opened in 1975, is named in honor of Hubert H. Jack, the former Lock Haven football head coach from 1946-68 and head wrestling mentor from 1942-64. The field features a stunning crimson and white bald eagle at the 50 yard line.
In addition to superior performance, Lock Haven will enjoy unmatched durability. So far, more than 700,000 square feet of Trionic fiber have been installed at carefully selected beta sites around the country, with varying usage amounts and ultraviolet (UV) exposure.
About AstroTurf® For athletes and sport enthusiasts, AstroTurf® has redefined the way the game is played. The brand offers advanced, state-of-the-art, multi-sport and specialized synthetic turf systems with proprietary engineered technologies. A growing number of high schools, colleges, professional sports teams and municipalities continue to select AstroTurf-branded products for their premium quality, technical superiority, and safety. To learn more, visit AstroTurf's website at http://www.astroturf.com.