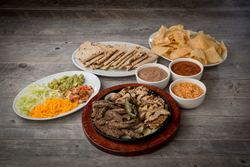 Recinos said, "I can't believe that day finally came. My family, team, and I are so excited to serve you our delicious fajitas, from dine-in, pick up, or delivery, and to cater your personal and office needs."
HOUSTON (PRWEB) May 15, 2018
Fajita Pete's is proud to celebrate the opening of its tenth location (and second Dallas location) at 1008 W. Hebron Parkway Suite 102 Carrollton, TX 75010.
Best known for fresh-off-the-grill, mouthwatering fajitas and always made-from-scratch sides, Fajita Pete's homemade Mexican food is available for catering, pickup, delivery or dine-in for lunch and evening. Fajita Pete's now offers convenient online ordering—a fresh new food-delivery alternative. For store hours and availability, visit http://fajitapetes.com.
Besides their renowned fajitas, Fajita Pete's is excited by its new offering, Margaritas TO-GO, which Carrollton plans to add to their menu later this year.
Carrollton franchisee, Jose Recinos, is looking forward to expanding Fajita Pete's partnership with local families, schools, and businesses. "Opening my second Fajita Pete's location has been my dream since day one," Recinos said. "I can't believe that day finally came. My family, team, and I are so excited to serve you our delicious fajitas, from dine-in, pick up, or delivery, and to cater your personal and office needs."
The Carrollton store continues the rapid growth of the Houston-based chain, which now has ten locations. Opening soon will be Midtown (Houston) and College Station, with additional Texas locations this year in Spring, Cypress, Clear Lake, and League City. For a list of current locations, you can visit https://www.fajitapetes.com/locations/.
Fajita Pete's is looking for franchisees to grow their business. The Fajita Pete's Franchise Program provides a unique business model, along with assistance with site selection, lease negotiations, restaurant design, construction, training and operations, as well as quality control and ongoing support through mentorship and marketing.
To apply for a Fajita Pete's franchise program, visit: http://www.fajitapetes.com/franchises/.
About Fajita Pete's
Fajita Pete's is a Houston-based Mexican restaurant that offers fresh, made-from-scratch fajitas, thirst- quenching Margaritas TO-GO, and a variety of authentic dishes for delivery, pick-up, catering and dine-in. Founder Pete Mora opened his first restaurant in 2002 and soon received an overwhelming amount of catering requests from local companies. Envisioning a better way to fill a growing niche, he decided to close his profitable 5,000 sq. ft. full-service restaurant to focus on a 1,200 sq. ft. catering and delivery model that soon became Fajita Pete's. For more information, visit http://fajitapetes.com.