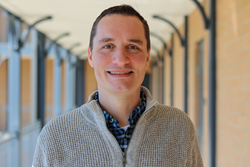 "tend.ly can make a real difference in the lives of people, and I want to be a part of that." Matt Coffman, tend.ly COO
INDIANAPOLIS (PRWEB) May 15, 2018
tend.ly, a cloud software platform for child care and senior care providers, announced today the hiring of Matt Coffman as chief operating officer. Coffman's addition strengthens the executive team and accelerates the product development roadmap.
Coffman joins the company from High Alpha, where he served as vice president of product. During his time at High Alpha he helped guide many award-winning portfolio companies into successful product launches with a diligent attention towards consumer-focused experiences.
"Matt's creativity and experience will allow us to more rapidly grow tend.ly's features and interface, giving our customers a product and experience that are second to none," said Caitlin Coffman, tend.ly's founder and CEO. "Matt has a history of innovation in product development, and we've already seen that innovative mindset at work in our app."
He was instrumental in building the personalization company iGoDigital before it was sold to ExactTarget in 2012 and brings a blend of expertise that includes big data, personalized communications, analytics, and SaaS products built at scale.
Matt Coffman's rounds out tend.ly's leadership team with Byron Hardie, CMO, and Caitlin Coffman.
"Customer engagement is a pillar for scaled growth. Marketing communication and product experiences are tightly coupled and Matt brings the added vision that will further differentiate tend.ly as the market leader," said Byron Hardie.
"It's been so exciting to watch tend.ly grow in the last 16 months," said Matt Coffman. "I want to give our customers a world-class product that creates meaningful connections between those in care and their families. tend.ly can make a real difference in the lives of people, and I want to be a part of that."
About tend.ly
Through our personalized, all-in-one mobile app, tend.ly allows senior and child care providers to connect with loved ones and provide insight into the care journey. We work with care centers across North America to help them save time by using our simple software to communicate meaningful moments to families, increase staff satisfaction, and create and retain loyal customers. Learn more at tend.ly.