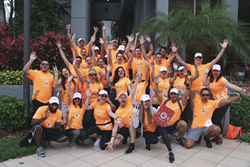 MIAMI (PRWEB) May 16, 2018
EAST, Miami, a hotel and residences within Brickell City Centre, has announced their first nonprofit partnership with Red Nose Day USA. The charity partner was unveiled in April at the 2018 Mercedes Benz Corporate Run in Downtown Miami, where EAST, Miami's team sported red noses and t-shirts featuring the charity's official logo.
The Brickell lifestyle hotel seeks to raise donations for the child-focused organization, which aims to better the lives of children in the neediest communities in the US and the poorest communities in the world. Partner charities of Red Nose Day include Boys & Girls Clubs of America; charity: water; Children's Health Fund; Covenant House; Feeding America; Gavi, the Vaccine Alliance; UnidosUS; Save the Children and The Global Fund. EAST, Miami has launched an online fundraiser link to garner monetary contributions to Red Nose Day USA.
EAST, Miami will also host the official Red Nose Day USA Miami viewing party on Thursday, May 24, with proceeds from the evening's silent auction directly benefiting Red Nose Day USA. The event will screen the official Red Nose Day programming on NBC, and donations will be accepted throughout the evening to support the nonprofit.
EAST, Miami is the only hotel to officially support Red Nose Day USA, and joins an impressive roster of celebrities and brands in support of the cause such as Julia Roberts, Ed Sheeran, Mindy Kaling, Whoopi Goldberg, Nicole Richie, British Airways, Paypal, Aquafresh, and more.
Visit the EAST, Miami donation page and make your tax-deductible donation here. High-res images are available at the link here.
About EAST, Miami
EAST, Miami is Swire Hotels' first venture into North America, following the openings of EAST in Hong Kong and Beijing. Created for unconventional travelers looking for a fun and relaxing place to stay, EAST, Miami offers distinctive experiences for those seeking innovation, style, and personalized service. EAST, Miami offers 352 guest rooms to include eight suites and 89 one, two and three-bedroom residence suites (fully equipped apartments with kitchen, laundry facilities and full access to the amenities and services of the hotel). Guests can expect keyless entry, paperless check-in and check-out, a native app with locally curated insights and travel tips, art exhibits, health and wellness programing and array of other happenings to make them feel totally at EAST. The hotel boasts its signature restaurant Quinto La Huella; a poolside bar & lounge and a rooftop destination bar called Sugar; 20,000 square-feet of meeting and banquet rooms with bay and city views; a 20,000 square-foot outdoor pool deck (with four different pools) which can be used for private events; a lobby café and bar, Domain, and a 24-hour fitness center. Located at 788 Brickell Plaza, Miami, Florida 33131, the hotel is centrally located within a 15-minute drive from the Miami International Airport, and situated on top of Brickell City Centre – conveniently connected to popular districts such as Wynwood, the Design District, and South Beach. For reservations please email reservations(at)east-miami(dot)com or call 305-712-7000. For more information, please visit http://www.east-miami.com/.
About Red Nose Day USA
Red Nose Day is a fundraising campaign run by the non-profit organization Comic Relief Inc., a registered U.S. 501(c)(3) public charity. Red Nose Day launched in the US in 2015, dedicated to ending child poverty, both in the US and in some of the poorest communities in the world. The money raised by Red Nose Day in the US has benefited programs for children and young people in all 50 states and in 34 countries internationally. Globally, Red Nose Day has raised over $1 billion since its launch in the UK in 1988. Every year millions of Americans buy Red Noses at their local Walgreens, come together in their communities, workplaces, and schools to fundraise, and tune in for a special night celebrating Red Nose Day on NBC – all to help end child poverty. This year, Red Nose Day is on May 24.