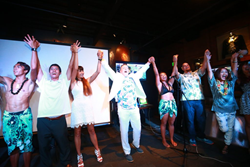 "After 30 years of sharing dolphin swim tours with our guests through Dolphins and You, we are more energized than ever to enable more people to enjoy this magical experience." - And You Creations CEO Richard Holland
HONOLULU, Hawaii (PRWEB) May 15, 2018
This month, And You Creations (AYC) celebrates the start of its 30th year in business as a tour company on Oahu.
And You Creations is a multi-operational tour company based out of Oahu that allows visitors the chance to discover and share in the unique experiences Hawaii has to offer. With AYC, tourists and locals alike have the opportunity to see, feel, and explore the authentic culture and natural features of Hawaii. AYC offers dolphin swim tours, circle-island tours, hiking tours and more.
It all began with Dolphins and You, the longest-running and highest-rated dolphin swim tour on Oahu. Dolphins and You originated from a desire to share the magic of connecting with dolphins in their natural habitat. The tour now hosts up to 80 guests each day and has entertained more than 200,000 visitors since its inception.
"This is a very exciting time for our company," And You Creations CEO Richard Holland said. "After 30 years of sharing dolphin swim tours with our guests through Dolphins and You, we are more energized than ever to enable more people to enjoy this magical experience."
To commemorate the occasion, AYC is offering adult guests its dolphin swim tours for only $130 and children for just $98. It is the largest discount AYC has offered in the history of its operation and is only available for a limited time.
Promotion: 30th Anniversary Special
Dates: May 15 - July 15, 2018
Tour: Dolphins and You Code: 30year
Discount: $26 off

Adults: $130
Children: $98
About And You Creations: And You Creations originally started 30 years ago as Dolphins and You, the longest-running and highest-rated dolphin swim tour on Oahu. In 2016 they started Nature and You, a hiking tour on the Manoa Falls Trail and earlier this year launched Island and You, a circle-island tour of Oahu focused on experiencing local Hawaiian dishes.