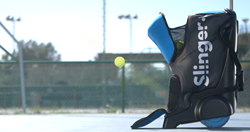 "As tennis continues to grow in popularity, both pro and amateur players are looking for new and cost-effective ways to practice and improve"
TORONTO (PRWEB) May 16, 2018
Today, Slinger, makers of the world's most portable tennis launcher-in-a-bag, launched its crowdfunding campaign on Kickstarter to reach mass production by Fall of 2018. The Slinger Bag is a modular tennis bag that contains a fully-functional ball launcher with space for players' tennis equipment and is starting at $219 for early-bird purchases.
The bag's launcher is programmable, capable of speeds between 10 and 80 mph, a variety of launch settings for different techniques and training regimens. At just 12lbs, Slinger lasts up to 5 hours on a single charge and stores all the necessary equipment for training including rackets, 36 balls, towels, bottles and can also charge smartphones or tablets while on the court.
"As tennis continues to grow in popularity, both pro and amateur players are looking for new and cost-effective ways to practice and improve," said Joe Kalfa, CEO and Founder of Slinger. "With Slinger, we wanted every player to be able to work on their game or get in a quick practice just about anywhere, whether it's at the court waiting for your partner, at the park or even on your driveway."
With a large target market of over 100 million tennis players around the world – valued at over $8 billion in the United States and United Kingdom alone - Slinger's portable, easy and cost-effective solution is for tennis players of all types.
"For competitive tennis professionals that need to be able to maximize their time practicing, even when on the road, this is the perfect solution," said Juda Honickman, Director of Marketing for Slinger. "And for amateurs that might not be able to get to the club that often or can't afford private court costs, we believe that this is a great way to up your skills with a minimal investment and maximum return."
Slinger has been in development for more than 18 months and already has a fully-functioning prototype currently being tested by tennis professionals.