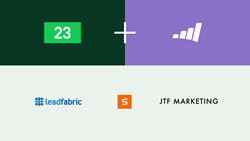 "TwentyThree brings video into the tech stack by measuring beyond vanity metrics, showing marketers who watched a video and when, what channels are performing the best, and integrating all that information into a marketing automation system."
SAN FRANCISCO and COPENHAGEN, Denmark (PRWEB) May 16, 2018
Today, TwentyThree is pleased to announce platform partnerships with Europe's top digital marketing and Marketo agencies, SuccessFlow, LeadFabric, and JTF Marketing to bring a video marketing platform to their customers. As video continues to exponentially grow in importance for businesses around the world, these partnerships will allow these agencies to work with their clients to measure the true value of video - across their entire marketing stack.
"We've found that video is the best way to tell a story, but in the past, it's been hard to measure and prove ROI. We're excited to partner with TwentyThree to give our customers the best platform to run and measure their video across the entire buyers journey," said Simon Donkin, Commercial Director at SuccessFlow. "TwentyThree brings video into the tech stack by measuring beyond vanity metrics, showing marketers who watched a video and when, what channels are performing the best, and integrating all that information into a marketing automation system."
Used by some of the top brands in the world, TwentyThree's platform equips marketers to run all of their video from one platform, with tools such as social distribution, inbound video hubs, and detailed audience insights. From sending lead video data to a sales team to automated triggers inside of Marketo based on video behavior to lead scoring, TwentyThree's platform enables more granular marketing when it comes to video.
"With marketing automation becoming intrinsically part of every B2B marketing organization, video marketing platforms offers infinite opportunities to really make the leap to highly personalized and converting engagements," says Koen De Witte, Managing Director of LeadFabric. "While the ability to use video has been around for a while, it usually is treated as a silo in the marketing mix. With high production and management costs, as well as suboptimal return as a result. With TwentyThree, we now have a business partner that takes those barriers away."
While existing video channels exist, they are often isolated from the rest of a marketing organization. TwentyThree's platform guides marketers that have struggled to measure video to move beyond vanity metrics like views and impressions.
"The most common challenge for marketers – is how can they measure and track success of marketing investment across various channels. We help our clients tie up the disparate data and make sense of the results. This is exactly the reason TwentyThree is the perfect partner," said James T Fletcher, JTF Marketing CEO. "Continued investment in social, and digital media is still somewhat siloed, especially in the world of lifecycle marketing models resulting in video being coined as "top of the funnel" We see TwentyThree as the key for unlocking the ROI and potential of continued video investment through detailed insights."
About TwentyThree™
Video is the best way to tell stories and connect with your customers. At TwentyThree, we empower marketing teams to finally integrate and add video to their marketing stack to successfully run video with inbound, social, and demand generation. The world's best marketers need a video marketing platform to make better-informed decisions about video across the entire marketing funnel. Thousands of marketers are using TwentyThree to significantly increase their results and gain the missing 50% of website data through video marketing.