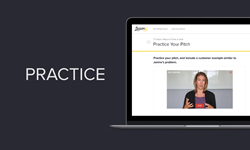 "We believe that practice is the future of team training." —Max Yoder, Lessonly CEO and Co-founder
INDIANAPOLIS (PRWEB) May 15, 2018
Lessonly, the leader in online training software, today released a new suite of features designed to encourage practice at work. The Practice tools offer simulated work scenarios in Lessonly for employees to rehearse basic customer service and sales skills. The new offerings also enable managers and trainers to give helpful feedback and coaching online.
"We believe that practice is the future of team training," said Max Yoder, CEO and co-founder of Lessonly, last month at the company's annual conference, Yellowship. "Practice provides the psychological safety to try out a new skill, get feedback, and improve continuously. It builds the muscles needed for high-performance."
Practice is one of the six steps in Lessonly's Better Work Method—a methodology designed to help teams build world-class training programs. The Lessonly app now enables practice through seven features:

Chat Practice: Offer a realistic chat experience for teams to hone their skills before talking to customers.
Support Ticket Handling: Practice thoughtful ticket handling—from prioritization to resolution.
Webcam Recording: Rehearse pitches or customer interactions on video and receive helpful feedback from managers.
Screen Recording: Capture all or part of a screen, along with audio, to hone product walkthroughs or other skills.
Email Reply: Respond to customer service tickets and concerns via a simulated email client.
Email Composition: Draft mock emails to customers or prospects to refine messaging and maximize impact.
Custom Feedback Criteria: Write custom grading criteria for teammates and help them grow through intentional feedback.
More details can be found at lessonly.com/practice.
Practice is the newest component of Lessonly's increasingly robust online training platform. In 2018, the company's market share, performance, and team have continued to grow rapidly. They are now hiring for positions in marketing, product, services, and sales. Visit lessonly.com/hiring to see available positions.
About Lessonly
Lessonly is powerfully simple training software used by over 1.4 million learners at more than 500 companies to translate important work knowledge into lessons that accelerate productivity. Customer service teams across the world use Lessonly to serve customers faster, drive consistent support, and elevate the customer experience. Sales teams use Lessonly to reinforce best practices, accelerate rep performance, and close more deals. Learn more at lessonly.com.