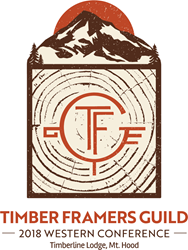 The Guild Conferences are special knowledge sharing and networking events that leave one saturated with knowledge, inspirationally fulfilled, and superbly energized
PORTLAND, Ore. (PRWEB) May 16, 2018
The annual Timber Framers Guild west coast conference will educate and celebrate the practice of timber framing with professionals and enthusiasts alike. 30-year supporting member company, New Energy Works Timberframers, will be sharing knowledge across platforms in several presentations to attendees of the Mount Hood event, June 1 through June 3.
"These annual Guild Conferences are special knowledge sharing and networking events. An abundance of information in open communication settings leaves one saturated with knowledge, inspirationally fulfilled, and superbly energized," explains Jonathan Orpin, TFG Board Member and Founder of New Energy Works.
The conference offers educational seminars by numerous experts covering the full breadth of this industry. Also taking place during the conference weekend: demonstrations, a trade show, auctions, and other events. New Energy Works team members will be presenting:

Friday, June 1st: 11 am, Sean Berman, Lead Timber Frame Engineer, presenting with other experts: Visible Steel in Timber Framing, Case Studies
Friday, June 1st: 3:45 pm, Darren Watson, Timber Frame Shop Foreman, presenting Tool Sharpening Skills
Saturday, June 2nd: 2:15 pm, Mike Westgard, Timber Framer, presenting Timber Finishes
Sunday, June 3rd: New Energy Works Founder Jonathan Orpin with author Gary Rogoski, presenting Maker v Manager, The Personal Challenge of Fulfillment in Our Work
In honor of the mountain (Mt.Hood) Sean Berman, New Energy Works Lead Timber Frame Engineer in Portland, OR–and avid outdoor enthusiast–will lead a group to summiting, returning in time for the start of the conference weekend. Additionally, Pioneer Millworks, sister company to New Energy Works, will be hosting the Axe Throwing event during the conference.
There's still time to sign up for the conference! Professionals and enthusiasts are encouraged to join the conference to be held at the Timberline Lodge in Mt. Hood Oregon, June 1st – June 3rd, 2018.
About the Conference:
The Timber Framers Guild Conference is North America's largest event dedicated to the practice of building historically–inspired new construction using environmentally responsible techniques and large timbers for framing, connected with traditional joinery. Drawing several hundred professionals from a variety of disciplines, the TFG Conference is the only arena where architects, engineers, artisans, contractors, designers, building owners, and preservationists gather to learn about the resources, skills, and knowledge necessary to build timber framed buildings. The Guild is committed to developing high-quality learning activities in accordance with national criteria for continuing education credits in a variety of professions, including Learning Units through the American Institute of Architects. Learn more about becoming a guild member.
About New Energy Works:
New Energy Works designs and builds environmentally responsible timber frames across the USA from their New York and Oregon facilities. The company offers Timber Framing (design, engineering, manufacturing, build), Enclosure Systems, Fine Woodworking, Recycled and Sustainable wood products. New Energy Works has LEED AP staff members, is a member of the US Green Building Council, and is FSC Certified.