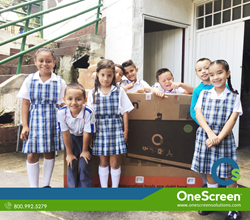 "Our OneScreen team is keenly aware that teachers everywhere are in need of tools to help them spend more time with their students and enliven their classrooms with the best interactive lectures," said Sufian Munir, CEO, OneScreen
SAN DIEGO (PRWEB) May 16, 2018
"When we took a closer look at the education sector," said Sufian Munir, CEO of OneScreen, "we quickly found that existing classroom technology was falling far short of its promise to deliver simple, turnkey solutions."
As the complexity of these classroom tools increased, so did the training time required for teachers and administrative personnel to become proficient in using them. Clearly, what teachers everywhere needed was not more training, but smarter technology that could respond more intuitively to educators and students.
Munir explained, "In developing OneScreen, our team was keenly aware that teachers everywhere were in need of tools to help them spend more time with their students and enliven their classrooms with the best interactive lectures. We wanted to simply remove any technological barriers."
OneScreen offers schools the highest quality screens on the market for a price that gives schools more freedom in funding. The other critical differentiator that OneScreen brings to busy teachers and school staff has been the Screen Skills Guru service – a trusted source for free, on-demand and unlimited training and support. This has been the heart of the capacity building features that have recently brought OneScreen into classrooms in schools such as:
DuBois Integrity Academy, Riverdale, GA
Uwharrie Academy, Asheboro, NC
Pepin Academies, Tampa, FL
The OneScreen software bundle goes beyond the basics to deliver not just the interactive whiteboarding tools that schools request, but also the blended & distance learning tools, classroom collaboration tools, formative assessment tools, lesson plans and educational content that characterize the country's top education centers.
About OneScreen:
When collaboration technologies work together, schools and organizations can realize the benefit of people working together. OneScreen hubware and software solutions facilitate the way collaborators need to flow between work tools and access a variety of content, data, and people to be continuously productive. Headquartered in San Diego, California, Clary Icon has offices in the United States, Pakistan, Colombia, Mexico and U.A.E. All of your collaboration tools are right here.