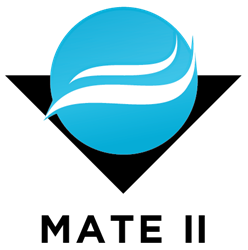 FEDERAL WAY, Wash. (PRWEB) May 16, 2018
Marine Advanced Technology Education (MATE) and its sister organization, MATE Inspiration for Innovation (MATE II), are pleased to announce a high number of notable sponsors devoted to preparing students in Science, Technology, Engineering and Mathematics (STEM) and ocean-related occupations.
The Marine Technology Society Remotely Operated Vehicle (ROV) Committee, the National Science Foundation, Teledyne Marine, Eastman, and Tacoma South Sound Sports Commission join a variety of other technology and education-related businesses in their continued support of the MATE International ROV Competition, scheduled for June 21 to 23, at the Weyerhaeuser King County Aquatic Center in Federal Way, WA.
This competition challenges teams of students to design and build an ROV that they operate and simulate solving real-world problems in the bottom of a swimming pool. They're encouraged to develop their technical, teamwork, creative thinking, and problem-solving skills.
The contribution of sponsoring organizations like these not only helps MATE continue to offer this unique learning experience, but it also helps to inspire students to grow, gain confidence, challenge themselves, collaborate, and develop business know-how and an entrepreneurial spirit that will help them excel in their chosen careers.
Sponsors are a critical part of MATE's continued success. They provide more than just financial and technical support, although these aspects are important. They also help recognize and highlight the accomplishments of the winning teams, provide valuable networking opportunities for students to interact, share ideas, learn from one another (and from working professionals), and much more.
Sponsors gain benefits as well by increasing their own visibility through the MATE website, having their logos displayed on competition materials and gaining access to a large pool of talented students by way of MATE's partner colleges.
For more information on the MATE International ROV Competition or the different sponsorship opportunities available, visit https://www.marinetech.org/.