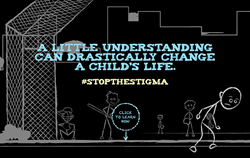 "The reality is that two out of every three children have a diagnosable mental disorder. Our #stopthestigma campaign helps people learn the facts and opens up the dialog so that those dealing with mental health issues will be encouraged to seek support."
DETROIT (PRWEB) May 17, 2018
As a leading provider of mental health and wellness services to thousands of children in metro Detroit, and as part of Mental Health Month, The Children's Center of Wayne County is unveiling a new public service campaign that centers on common mental health issues, addresses stigma and encourages parents and caregivers who have children struggling with mental illness to seek help early. Mental health challenges affect almost all American families, according to the President's New Freedom Commission on Mental Health.
In the United States, mental health problems are common. Statistics from the National Institute of Mental Health (NIMH) reveal that more than 49 percent of children between the ages of 13 and 18 experience some type of mental disorder. Of those, approximately 1 in 5 children are affected by a seriously debilitating mental illness. These can create incredible difficulties for the child and family, especially if the illness is not diagnosed and treated.
"About 36 percent of children and adolescents with diagnosable mental health disorders receive the treatment they need, and this is especially true in minority communities, where families generally face greater stigma," says Rosalva Osorio, Director of Clinical Services at The Children's Center. "We help children and families heal through evidence-based evaluations, behavioral care, and effective coordination of all health conditions, so they can grow and thrive."
The new campaign by The Children's Center focuses on promoting mental health awareness and encouraging people to talk openly about mental illness and disorders. The goal is to build strong children and communities that embrace the differences between people. The effort includes an animated series of ads, PSAs, social media, direct mail and e-mail communications. A new online space has been created, TheChildrensCenter.com/StopTheStigma
"People don't realize how widespread these issues are because there is such an aura of secrecy around mental health, but the reality is that two out of every three children have a diagnosable mental disorder, " says Debora Matthews, CEO of The Children's Center. "Our #STOPTHESTIGMA campaign helps people learn the facts and opens up the dialog so that those dealing with mental health issues will be encouraged to seek support."
The Children's Center provides more than 20 programs and services, offering an integrated approach to community health, giving families the tools to heal, grow and thrive together. These services include professional counseling services for children and their families, giving them a safe place to talk and to heal. To learn more about the #STOPTHESTIGMA campaign, visit http://www.thechildrenscenter.com/stopthestigma.
ABOUT THE CHILDREN'S CENTER OF WAYNE COUNTY
Since 1929, The Children's Center has been empowering children and families to shape their own futures in Midtown Detroit. Each year, nearly 7,500 children and families receive evidence-based therapeutic mental and behavioral health services from The Children's Center to help them overcome emotional and intellectual challenges, trauma from abuse, neglect and poverty. Learn more about The Children's Center and our comprehensive array of services at http://www.thechildrenscenter.com or call (313) 831-5535.