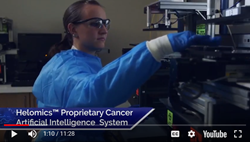 NEW YORK (PRWEB) May 17, 2018
​Stock-Sector.com​,​ ​an online source of news about promising medical, technology, and energy companies, today released ​an interview​ with ​Gerald Vardzel​, President and CEO of ​Helomics​.
In the interview Gerald Vardzel discusses the recent purchase of equity that Precision Therapeutics made into Helomics', as well as the fundamentals of Helomics' business model for precision medicine.
Headquartered in Pittsburgh, Pennsylvania, Helomics has established operations that bridge two emerging areas of the healthcare industry: precision medicine and big data. Helomics' competitive advantage lies in its proprietary D-CHIP™ database, which contains de-identified data compiled from more than a decade of clinical testing of tumor responses to drugs, coupled to an Artificial Intelligence (AI)-powered bioinformatics engine which generates actionable scientific insights from this rich data. These insights are used by BioPharma companies in the research and development of targeted cancer treatments for any given patient profile, driving improved patient outcomes.
About Precision Therapeutics Inc.
Precision Therapeutics (NASDAQ:AIPT) operates in two business areas: first, applying artificial intelligence to personalized medicine and drug discovery to provide personalized medicine solutions for clients in the pharmaceutical, diagnostic, and biotech industries, and second, production of the FDA-approved STREAMWAY® System for automated, direct-to-drain medical fluid disposal.
Stock-Sector is an online source of news about promising medical, technology, and energy companies. Stock-Sector was created out of necessity, to provide a glimpse of the financial markets in sectors relevant to the investor. We strive to deliver easily digestible content to the overburdened stockholder. Another significant focus of ours is to establish compelling media to heighten the experience in neglected humdrum industries.
The statements contained herein may include statements of future expectations and other forward-looking statements that are based on management's current views and assumptions and involve known and unknown risks and uncertainties that could cause actual results, performance or events to differ materially from those expressed or implied in such statements. In addition to statements which are forward-looking by reason of context, the words "may", "will", "should," "expects," "plans," "intends," "anticipates," "believes," "estimates," "predicts," "potential," or "continue" and similar expressions identify forward-looking statements.