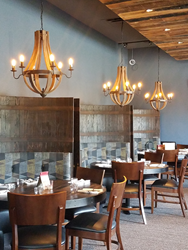 At Grillsmith we offer amazing American food that celebrates diverse flavors crafted by fire
TAMPA, Fla. (PRWEB) May 17, 2018
Grillsmith, with locations throughout the bay area, is excited to unveil its fifth restaurant location, opening June 1st, in South Tampa. With a contemporary rustic design and casual atmosphere, the restaurant will be open for lunch, dinner, and weekend brunch and features classic Grillsmith favorites as well as some remixed comfort dishes.
Under the direction of chef Joe Guli, the newest Grillsmith is on track to be one of the most anticipated restaurant openings in the area. In 2017, the Grillsmith ownership team made the decision to purchase the former Grille 116 building, completely transforming the space to create the fifth Grillsmith location. The restaurant will occupy the corner of Dale Mabry Hwy. and Cass Street, just two blocks south from 275.
The newest restaurant is not your father's Grillsmith either. Owner and Founder, Mark Johnston partnered with a local architect and Grillsmith's own in-house designer, Corie Hill NCIDQ, to create a modern, sleek restaurant exterior featuring a wood and metal patina facade. Inside, rustic wood and glamorous lighting set the urban feel, creating a "lived in feeling" for the space. Seating inside is casual while affording a comfortable dining experience in plush booths and solid wooden tables. Dramatic elements include a gathering table just inside the entrance and a bar the full length of the dining area.
"At Grillsmith we offer amazing American food that celebrates diverse flavors crafted by fire," says Guli, President and Chef at Grillsmith. "We are excited about being in South Tampa again and have been welcomed back with open arms."
Focusing on Grillsmith's signature style, the South Tampa restaurant will offer a core menu consisting of classic fan favorites like Lemon Feta Chicken, Port Wine Filet, and the Caribbean Pumpkin Crab Bisque. Appetizers will include the Insalata Caprese and Crunchy Ahi Tuna. To complete the dining experience, a variety of desserts are offered including a traditional Chocolate Decadence Cake and scratch-made Key Lime Pie.
All Grillsmith restaurants feature a curated wine list and the South Tampa location will also feature 20 local, specialty, and craft beers on tap. The full bar will offer signature cocktails that include the Sorority Girl and the Smoked Old Fashioned.
The entire Tampa Bay area is invited to the official grand opening event on Friday June 1st, 2018. The doors will open at 11am with a ribbon cutting by the South Tampa Chamber of Commerce, and guests who celebrate with Grillsmith will receive complimentary Hors D'oeuvres and champagne from 10am-11am. Grillsmith will also be celebrating their opening on social media, where Facebook fans have the chance to win dinner for two.
The South Tampa Grillsmith is located at 612 N. Dale Mabry, Hwy, Tampa Florida. For More info go to http://www.grillsmith.com
Grillsmith is excited to partner with the Children's Cancer Center with all alcohol proceeds from the opening VIP weekend event, held Friday May 11th and Saturday May 12th, being donated to the center. The Children's Cancer Center is a non-profit organization dedicated to serving families of children who have cancer or chronic blood disorders.
About Grillsmith
A modern take on classic American comfort fare, Grillsmith dishes out comfort food and drinks with a fiery passion for flavors…crafted by fire. Now with five Tampa Bay Area locations, Grillsmith is crafting dining experiences to remember.