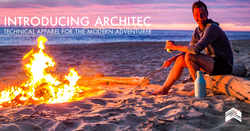 Skye Schuchman, Head of Design, says of ArchiTec's Baja Collection, "This capsule offering captures the spirit of beautiful Baja California where we wear-tested each versatile piece against desert and beach conditions."
SAN FRANCISCO (PRWEB) May 17, 2018
Designed and built in California, ArchiTec is technical apparel for the modern adventurer. The inspiration behind the ArchiTec brand came from the Founders' love of travel, the outdoors and an obsession with packing light.
Founder, Justin Seale explains how ArchiTec's brand's aesthetic was created, "Our design vision focuses on three basic objectives: "Go and see"- Each collection is inspired by, and quality tested, in a unique travel destination and includes foundational cohesive pieces, perfect for traveling light and often. "Design for adventure"- we use high-quality technical fabric which performs across all types of excursions and aims to balance function, style and experience. "Build cool stuff and less of it"- We want the world to be here for future explorers, so sustainability is embedded in everything we do. Our small-batch, limited-edition pieces are designed and warrantied for life, and we are also one of the few small brands that trace our materials back to the growers to ensure ethical and sustainable practices."
Featuring lightweight Halley Stevenson waxed canvas, the Livingstone Overshirt (MSRP $168) is optimized for warmer weather and is comfortable with or without a base layer. This fabric uses a unique "Hybrid Aero" wax finish that is cool to the touch but also wind and water repellent. A great stand-alone staple or layers in with the Carson Hoodie for colder days and nights.
The Carson Merino Hoodie (MSRP $158) is designed to be worn from the backroads of Baja to your daily commute. The Merino stretch wool fabric is naturally anti-microbial and temperature regulating, needs minimal washing and ensures this piece will be a constant staple in your rotation.
Find ArchiTec's full Spring/Summer 2018 Baja Collection at architecsf.com. All products are currently available in the Workbench for pre-order at 20% off until May 25th. View their launch video on Vimeo. Follow them on Facebook and Instagram GO AND SEE.
About ArchiTec:
ArchiTec is a travel and performance men's apparel brand. We build everything with quality, sustainable design and premium technical fabrics that are meant to perform across many adventures and be worn a lifetime. We deliver products and experience that embrace the spirit of exploration and seeing for oneself.
The creative force behind this brand brings a combined 40 years of experience in the industry. Justin Seale, held Product Management and Development roles at Chrome Industries and Mission Workshop for over 13 years. Skye Schuchman, is a creative brand consultant to the fashion and technology industry. With a fashion degree from the Fashion Institute of Design & Merchandising in San Francisco, he has consulted with leading brands such as Luna Sport, Oliver's Apparel, Kitsbo and founded his own cycling/art/lifestyle brand, Velo Blanc. Suzann Stone, started out her career in retail with sales and customer support roles at Victoria's Secret Catalog and Neiman Marcus Direct and has spent the past 15 years as a digital customer strategist, advising luxury brands including Audi, AccorHotels and Apple.