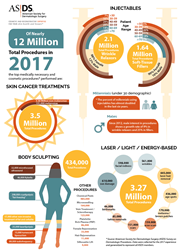 The findings of our annual procedures survey substantiates the public's understanding of our members' expertise, level of care and reflects the growth of consumer demand for effective procedures to treat the health and beauty of the skin.
ROLLING MEADOWS, Ill. (PRWEB) May 17, 2018
The American Society for Dermatologic Surgery (ASDS) announced today that its physician members performed nearly 12 million medically necessary and cosmetic procedures in 2017 – over 10 percent more than 2016 and doubling since 2012.
For the sixth year in a row, the 2017 ASDS Survey on Dermatologic Procedures revealed skin cancer treatments ranked as the most-performed procedure (more than 3.5 million) by ASDS member dermatologists, reinforcing both their skin expertise and the increasing rate of the disease.
Members also performed over eight million cosmetic treatments in 2017, a 19 percent increase over 2016 results. With a 21 percent increase, injectable soft-tissue fillers saw the largest year-to-year growth, while laser / light / energy-based procedures grew 17 percent and body sculpting increased by 12 percent.
"We are heartened that patients continue to put their trust in ASDS members for medical and cosmetic treatments," said ASDS President Lisa Donofrio, MD. "The findings of our annual procedures survey substantiates the public's understanding of our members' expertise, level of care and reflects the growth of consumer demand for effective procedures to treat the health and beauty of the skin."
SKIN CANCER TOPS PROCEDURE LIST
The U.S. has more skin cancer diagnoses each year than any other cancer combined, per the American Cancer Society. Dermatologic surgeons lead the fight with expert diagnoses, gold standard treatments and dedication to consumer awareness and prevention education.
More than 3.5 million skin cancer procedure were performed by ASDS members in 2017 – a 33 percent increase since 2012. Over the last six years, treatments for melanoma – the deadliest type of skin cancer – have grown by 30 percent. For the first year, sun damage took the top spot for the condition treated with energy-based devices. This reinforces the ongoing need for sun protection education, especially for younger patients. Developing sun-safe behaviors in youth will lead to healthier habits for life. The SUNucate model legislation created by ASDSA has taken hold and currently 14 states have passed laws allowing children to use over-the-counter sunscreen at school and camps.
"These increasing stats reinforce the ASDS mission to take a comprehensive approach for promoting sun-safe behaviors, encouraging skin cancer screenings and providing leading cost-effective treatment options to ensure the best quality outcomes," said Dr. Donofrio. "Being part of the treatment and healing process for millions of patients motivates our mission for prevention and early detection efforts."
COSMETIC PROCEDURES CONTINUE TO RISE
The top cosmetic treatments in 2017 were:

3.2 million procedures using laser, light and energy-based devices – Treats a variety of skin conditions including facial redness, excess hair, age spots, sun damage, scars and birthmarks.
2.1 million neuromodulators – Injectable wrinkle-relaxers to smooth fine lines on the face.
1.6 million soft-tissue fillers – Restores fullness to the face, plump lips and raise depressed scars.
485,000 chemical peels – A solution applied to the skin causing it to exfoliate and eventually peel off, revealing new, smoother skin.
434,000 body sculpting treatments – Procedures ranging from "fat-freezing" to injectables that help remove stubborn fat and tighten skin.
The continual increase in cosmetic procedures reflects the public's desire to feel more confident, more attractive and look as young as they feel, as discovered in the 2017 ASDS Consumer Survey on Cosmetic Dermatologic Procedures. Injectable treatments addressing signs of aging continue sustained growth with rising neuromodulators (seven percent) and soft-tissue fillers (21 percent) since 2012. In the last six years, energy-based treatments grew 63 percent with facial redness (86 percent), surgical scars (76 percent), and acne scars (72 percent) being the top three conditions for which patients most often sought treatment.
Body sculpting procedures maintain mounting popularity, growing three times since 2012. Pioneering treatments like Kybella – most commonly used to reduce fat below the chin – rose 23 percent in this year's survey. Cryolipolysis or "fat-freezing" grew 77 percent in just one year. A treatment to melt body fat using heat from fiber-optic laser, called laser lipolysis, was performed six times more this year than in 2016.
Other ground-breaking treatments performed by ASDS members and new to the 2017 survey, include a collagen induction therapy called microneedling and a non-surgical option supporting skin and hair rejuvenation known as platelet-rich-plasma (PRP).
The demographics of those interested in cosmetic procedures continues to expand. "An increase in media coverage and in celebrities acknowledging their procedures are growing awareness among the general public and improving the comfort level of diverse audiences to explore treatments," shared Dr. Donofrio.
Male interest in cosmetic procedures shows a nine percent growth rate in wrinkle-relaxers and a 25 percent growth rate in the use of soft-tissue fillers since 2012. The under-30 age bracket is becoming more proactive by choosing preventative skin care treatments. The percent of millennials using neuromodulators and fillers has almost doubled in the last six years.
"Research, coupled with technology advances, are driving innovative options for those seeking to treat cosmetic concerns with minimal invasiveness," said Dr. Donofrio. "ASDS members offer medically trained guidance with aesthetic acumen to determine the right treatments to help patients look and feel their best."
# # #
About the survey
Data were collected for the 2017 experience and generalized to represent all ASDS members. The survey was conducted January 4, 2018, to February 14, 2018, for data reported in 2017. The survey link was sent to 3,784 practicing members. Survey results are reported based on 667 physicians, or a 17 percent response rate.
About the American Society for Dermatologic Surgery (ASDS)
The American Society for Dermatologic Surgery (ASDS) is the largest specialty organization exclusively representing dermatologic surgeons who have unique training and experience to treat the health, function and beauty of your skin. ASDS members are pioneers in the field. Many are involved in the clinical studies that bring popular treatments to revitalize skin and fill and diminish wrinkles to the forefront. Their work has helped create and enhance many of the devices that remove blemishes, hair and fat, and tighten skin. Dermatologic surgeons also are experts in skin cancer prevention, detection and treatment. As the incidence of skin cancer rises, dermatologic surgeons are committed to taking steps to minimize the life-threatening effects of this disease. For more information, visit asds.net.
Follow ASDS Skin MD on Facebook, Twitter and Instagram.
Locate a dermatologic surgeon in your area: asds.net/find
About the American Society for Dermatologic Surgery Association (ASDSA)
With a membership of 6,400+ physicians, ASDSA is a 501(c) (6) association, dedicated to education and advocacy on behalf of dermatologic surgeons and their patients. For more information, visit asds.net/ASDSA-Advocacy.