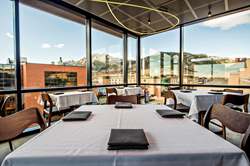 The space adds an unexpected sense of reserved elegance to the Boulder dining scene.
BOULDER, Colo. (PRWEB) May 16, 2018
When the highly anticipated Spanish-style steak and tapas restaurant Corrida opened its doors in downtown Boulder, Colorado, on March 24, guests were greeted by warm wood and neutral hues, white linens, modern lighting and unobstructed views of the surrounding Flatirons. Designed by award-winning Denver/Boulder-based architecture firm Arch11, the new space is a modern rooftop aerie set on the fourth floor of Boulder's PearlWest Building.
Corrida owner Bryan Dayton called upon Arch11 to implement a fresh look inspired by his travels to the Basque Country of northern Spain. Studded leather walls, cold cathode ceiling lamps reminiscent of swirling lassoes and a warm walnut bar with backlit bull skulls overhead nod to the Spanish tradition of bullfighting, while floor-to-ceiling windows and a sprawling outdoor rooftop patio with fire pits celebrate the awe-inspiring Colorado landscape.
"The space adds an unexpected sense of reserved elegance to the Boulder dining scene," explains Arch11 principal E.J. Meade. "We worked to make each surface of the design sensual and tactile, but also focused on the sensory acoustic experience to provide a lively space, but one in which a calm conversation can prevail."
The pairing of Arch11's elegant design with Chef Amos Watts' menu—which boasts exceptional cuts of beef, paella, tapas, craft cocktails and Spanish wine—has garnered the attention of local and national media. 5280, Westword and Eater Denver have all highlighted Corrida—including a spot on Eater Denver's list of '15 Hottest Restaurants in Denver'—while Vogue named it one of the 'Most Anticipated Restaurant Openings in America in 2018.'
With the completion of this project, Arch11 continues to elevate the ambience of the Denver/Boulder area's thriving dining scene. The firm has designed spaces for some of the hottest restaurants on Colorado's culinary map, including Boulder's Oak at Fourteenth and Denver's Brider (both also owned by Dayton), as well as the Mile High City's Whiskey Tango Foxtrot, Humboldt Farm Fish Wine, Blue Island Oyster Bar in Cherry Creek North and Sazza at Stapleton's Stanley Marketplace.
Arch11's next culinary design project is set to open in the downtown Denver Dairy Block outpost, a hub of shops, restaurants, bars and hotels in the historic one-block space that once housed Windsor Dairy.
About Arch11:
Founded in 1993, Arch11 has gained recognition for projects ranging from exceptional residences to institutional planning, mixed-use development and product design, including a 2009 Firm of the Year Award from the Colorado AIA North chapter, and in 2017 principal E.J. Meade received Colorado Homes & Lifestyles magazine's Circle of Excellence Award. With offices in Boulder and Denver, Colo., Arch11 has over 30 combined years of green building technology leadership. The staff's unusual level of hands-on experience ranges from boat building to furniture making, contributing to its reputation for commitment to craft, detailing and design integrity. For additional information visit arch11.com.
Contact: Sarah Goldblatt, sarah(at)wordprmarketing.com, 303.777.7667