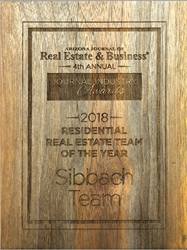 SCOTTSDALE, Ariz. (PRWEB) May 17, 2018
The Sibbach Team at Realty One Group was named the "2018 Residential Real Estate Team of the Year" by the Arizona Journal of Real Estate & Business. This local Arizona award comes on the heels of the team being nominated for the national award by Inman.com a leading real estate news source as the Most Innovative Real Estate Team in America. "It's been an exciting week that our hard work and dedication to advising clients is being recognized", comments team leader Jeff Sibbach.
The Top Real Estate Team of the Year voted by an esteemed panel of judges consisting of industry leaders and icons.
The award is given to a team that not only impacts the industry with results, trends, and business leadership, but that also finds ways to give back and impact the local community.
It was the Sibbach Team's unmatched results, closing 175 million dollars in real estate transactions in 2017, as well as their commitment to the community with their "Sibbach Cares" event that made the Sibbach Team a shoe in for the award.
Team leader Jeff Sibbach said, "This is an incredible honor to be recognized for our efforts across the valley as well as within the Real Estate industry. This award is evidence that the Top Realtors on the Sibbach Team are the best of the best. I am so grateful for them, as well as humbled by the support we have from our loyal clients."
Managed by Jeff Sibbach and Phil Sexton, The Sibbach Team – Realty One Group is ranked in the top 1% of REALTORS® in Maricopa County based on sales volume. They sell homes 2.32 times faster than the average real estate agent and get sellers 5% more. The award winning Sibbach Team is experienced, knowledgeable and focused on delivering the best service in the industry to buyers and sellers. To learn more about the #1 Real Estate Team in Arizona, visit: http://www.Sibbach.com