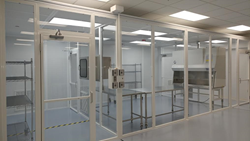 WALTHAM, Mass. (PRWEB) May 15, 2018
A partner to the biopharma and medical device industry leaders since 2012, Azzur of New England today announced the expansion of its consulting and technical services offerings to include Facility Solutions. This new offering is aimed at alleviating challenges related to ownership and maintenance of facilities for early phase good manufacturing practice (GMP) operations. Azzur of New England now offers certified and qualified move-in-ready cleanroom environments, secured and monitored warehouse for controlled temperature material storage as well as a materials testing laboratory. Additional support services include calibration, commissioning, qualification, and validation, establishment of phase appropriate and risk-based quality management systems, and records management.
"After observing the inherent challenges with establishing GMP operations for early-phase production at our customers sites, we made it part of our mission to alleviate these issues by establishing Facility Solutions. The new offering is designed to remove the burden associated with owning and operating a GMP facility and the related quality management systems, thereby allowing our customers to focus on delivering critical therapies to patients," said Ravi Samavedam, General Manager, Azzur of New England.
Azzur of New England's first expansion since 2012, the launch of Facility Solutions has already brought six new jobs to the area, with multiple new positions planned for the coming months.
Azzur of New England is part of Azzur Group. Located outside Philadelphia, a nationwide network of companies delivering professional services across the life science industry.
For more information about Facility Solutions from Azzur of New England, visit https://www.azzur.com/facility-solutions.
About Azzur Group
A nationwide network of companies delivering professional services across the life sciences industry, Azzur Group is dedicated to providing customers with practical and proven solutions from Discovery to Delivery™. Azzur Group has more than 250 industry partners, including 80% of the top pharma/biotech manufacturers in the U.S. As one of the fastest growing privately held companies in America, Azzur Group provides customers with the project management, consulting, facility solutions, engineering, validation, IT, calibration/maintenance, learning, and laboratory services.