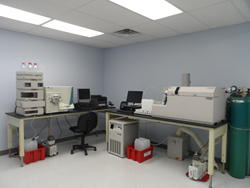 LEHIGH VALLEY, Pa. (PRWEB) May 15, 2018
Azzur Labs, an analytical laboratory that serves the biopharmaceutical, pharmaceutical, and medical device industries, announced today the renovation of its existing laboratory as well the expansion of its laboratory space more than doubling its laboratory space. Complementing the growth of the laboratory, Azzur Labs will be expanding its staff, bringing several new jobs to the Valley during the next year.
This is Azzur Labs' third facility expansion since its start in 2012. The additional space will be used to integrate a new wet chemistry laboratory and new instrumental chemistry laboratory, as well as facilitate the expansion of the current calibration and water chemistry laboratories. Azzur Labs will begin to offer services in second quarter 2018 for stability testing, viscosity, potency, heavy metals, trace elements, purity, degradation, USP 800 hazardous drug residue testing including platinum drugs, and more.
The pairing of microbiological services with analytical services streamlines the outsourcing process and provides indispensable and unique services to the area. It allows for a collaborative approach and the opportunity to advance business strategies with clients and prospective clients in the region.
With the expansion, Azzur Labs is pleased to announce the appointment of Chris Morgan as Chemistry Director. Morgan holds a Master's Degree in chemistry from Penn State University and brings more than 11 years of expertise in instrumental and wet chemistry. With the continuous expansion of Azzur Labs' capabilities and entrance into new markets, Mr. Morgan's experience is critical in the development, implementation and ongoing management of the analytical department. Azzur Labs will look to him to develop quality procedures that are compliant with international regulations while continually improving operational excellence.
"Adding new talent and capabilities is essential to fostering meaningful client relationships and providing unsurpassed service to our customers," said Kym Faylor, President of Azzur Labs. "These additions are another example of the commitment of Azzur Labs to continued growth and investment in its laboratory operations in the Lehigh Valley. The world of Azzur is exciting! We are proud of where we are today and passionate about where we are heading."
Azzur Labs boasts a prestigious tenure in the Lehigh Valley. In 2017, Azzur Labs was honored as one of Inc.com's Top 50 Best Workplaces in the country, fourth best place to work in PA for small business and earned #132 fastest growing privately held companies in the nation on the INC 500 list. Furthermore, in March, Faylor, who heads laboratory operations, was recognized as a Woman of Influence by Lehigh Valley Business.
"We're very excited about Azzur Labs' expansion and continued investment in the Lehigh Valley. Life science research and manufacturing has been identified as one of the Lehigh Valley's target sectors based on the site-specific characteristics of the regional economy, including our central location, well-developed transportation infrastructure, availability of water and sewer lines, and strong educational institutions. LVEDC is committed to helping companies like Azzur Labs stay and grow here in the Lehigh Valley," said Don Cunningham, President & CEO of Lehigh Valley Economic Development Corporation (LVEDC).
###
About Azzur Labs
Founded in 2012, Azzur Labs is a contract laboratory that serves the pharmaceutical, medical device and biotechnology industries. We believe that these industries have something amazing to offer the world; we strive to aid these companies to meet their goals by assisting with their analytical testing and ensuring regulatory compliance. For more information, visit https://www.azzur.com/labs.
About Azzur Group
A nationwide network of companies delivering professional services across the life sciences industry, Azzur Group is dedicated to providing customers with practical and proven solutions from Discovery to Delivery™. Azzur Group has more than 250 industry partners, including 80% of the top pharma/biotech manufacturers in the U.S. As one of the fastest growing privately held companies in America, Azzur Group provides customers with the project management, consulting, facility solutions, engineering, validation, IT, calibration/maintenance, learning, and laboratory services. For more information, visit https://www.azzur.com/. Follow us on Twitter, LinkedIn, and Facebook.