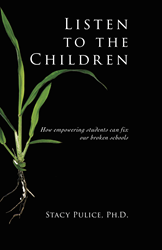 Stacy Pulice has written an essential book about Love; the love of humanity, the love of a holistic education, and the love of students and educators. -- Dr. Jennifer Freed, psychologist, author, speaker
SANTA BARBARA, Calif. (PRWEB) May 18, 2018
Listen to the Children: How empowering students can fix our broken schools provides an important point-of-view on de-colonizing today's ailing educational system, and healing it through love, attachment, and emotional safety in the classroom.
Author Stacy Pulice, Ph.D., has written an essential new guide to reforming our schools: Listen to the Children is already among the top 10 books on Amazon under "Education & teaching/Reform and Policy/Charter Schools."
Today's educational system is broken, an archaic process based on a colonization that is both dulling and ineffective. Sadly, teachers, administrators, and parents are asked to buy into this colonizing model by a compulsory government school system.
In this must-read book, Pulice implores us to tap into the creative souls of children, listen to them, and acknowledge that students and teachers alike are suffering. Listen to the Children shows that if we approach educating our children from a life- and soul-affirming place, they will thrive.
Pulice's research within schools has the potential to powerfully impact and improve the education of children in America, and around the world. Listen to the Children argues persuasively that healing will be found through an educational system that focuses on the development of the whole child, one that allows for attachment, relationship, and love in education, factors known to be primary in the developing child.
Pulice will be reading and discussing her book 3-4 p.m. Saturday, May 19, at Tecolote Book Shop in Montecito, CA, and 7-9 p.m. Tuesday, June 12, at Chaucer's Bookstore in Santa Barbara, CA.
Interested readers can purchase Listen to the Children at booksellers everywhere, and online at Amazon and Weeping Willow Books.