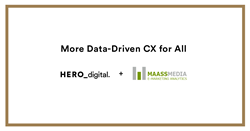 Insights gained through customer data will be the fuel of brand transformations.
SAN FRANCISCO (PRWEB) May 17, 2018
Hero Digital, a leading national independent customer experience agency, announced today it has completed the acquisition of MaassMedia, an analytics consultancy that partners with global brands in numerous industries to solve their challenges with data. Founded in 2009 and based in Philadelphia, PA, MaassMedia provides end-to-end digital analytics services for its clients, including strategy, analytics software implementation, data visualization, data analysis, and personalization. MaassMedia's founder and CEO, Aaron Maass, is a pioneer in the digital analytics space and currently serves on the Board of Directors of the Digital Analytics Association. The acquisition of MaassMedia strengthens Hero Digital's data capabilities and helps meet the growing demand for customer experiences that are fueled by data. Aaron will join the leadership team of Hero Digital and the companies will integrate immediately. Terms of the transaction were not disclosed.
Hero Digital is a recognized leader in delivering best-in-class customer experiences for premier brands, including recent work with Salesforce, Sephora, and Microsoft. In the coming years, brands will invest heavily in transforming their businesses through a ruthless focus on customers and their digital experiences across channels. "Insights gained through customer data will be the fuel of brand transformations. Aaron and his team are obsessed with data and guiding clients to true insights," said David Kilimnik, Hero Digital CEO. "Our clients desire a greater focus on customer data and the ability to use it to grow their businesses. We are thrilled to welcome Aaron and his team to Hero."
"Partnering with Hero to expand the impact of our work is an exciting step forward," said Aaron Maass, MaassMedia's founder and CEO. "Our focus has always been to help our clients be more data-driven in their approach to understanding their customers. With Hero, we'll be able to activate those insights in entirely new ways. We're excited about what this does for our clients, as well as the opportunities it opens up for our employees."
About Hero Digital
Hero Digital is a customer experience company. We combine strategy, design, content, engineering, marketing, and data analytics in our delivery of multi-channel customer experiences for brands. From the beginning of the customer's journey to the purchase process and post-purchase support, we help the world's best brands keep their customers engaged. Major global brands include Salesforce, Western Digital, and Belkin. For more information, visit http://www.herodigital.com.
About MaassMedia
MaassMedia, a Hero Digital Company, is a specialty analytics consultancy that provides guidance and leadership to global brands seeking to optimize their investments in digital multichannel content, marketing and customer experience initiatives. As a Google Analytics and Adobe Marketing Cloud Certified Partner, MaassMedia specializes in analytics strategy, analytics platform implementation, data visualization, analysis, personalization and digital analytics training. To learn more about MaassMedia, visit http://www.maassmedia.com.