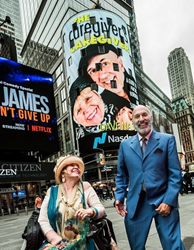 30% of caregivers die before their loved one's!
NEW YORK (PRWEB) May 18, 2018
Dave Nassaney, The Caregiver's Caregiver, has been on a whirlwind book tour since the publication of his latest book, "It's My Life, Too! Reclaim Your Caregiver Sanity by Learning When to Say 'Yes' and When to Say 'No.'" He has appeared, as of today, on 24 network morning television shows all across the country from Hawaii to Washington DC. on both local and nationally syndicated television, radio, magazine and news publications.
He has also spoken at Harvard, sharing the stage with Suzanne Somers, as well as NASDAQ and The Harvard Club in NYC. He has recently been embraced by the "caregiver friendly" (Kapuna) State of Hawaii, the only state in the union to offer caregivers a respite income to full-time workers, where he will be doing 11 events this summer with his lovely wife by his side.
In 1996, Dave became the caregiver to his wife, Charlene, when she suffered a massive stroke that left her severely speech impaired and paralyzed on the right side. Two years of hell followed as they both experienced the grief process that almost caused them to split up. Fortunately, Dave hung in there, and after a couple of years, Charlene started to become her old self again, and their love was rekindled.
She still cannot speak, but she can communicate non-verbally through Pictionary and Charades, 2 games Dave is not very good at, but he tries. She still cannot walk, but they travel the world in her 4-wheel drive power wheelchair, that has brought back her mobility again. She continues to be an over-achiever -- like a cross between Martha Stewart and Wonder Woman, like a one-armed wallpaper hanger. Charlene makes us "normal" people look like whiners and complainers. They are an amazing couple with a very heart-warming human-interest story that is being told again and again.
Dave made every mistake a caregiver could make, so he started a popular iTunes podcast in 2014 called, "Dave The Caregiver's Caregiver Radio Show", He also started a membership website that is packed with all sorts of caregiver resources. Watch his Welcome Video below:
For more information, call (661) 904-5060
Website Welcome Video: http://www.CaregiverDave.com
For Speaker Info: page: DaveNassaney.com
Media Page: http://www.Nassaney.TV
Buy Books: https://www.amazon.com/David-Nassaney/e/B007OVN8UW/ref=dp_byline_cont_ebooks_1