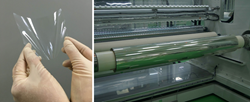 RESEARCH TRIANGLE PARK, N.C. (PRWEB) May 16, 2018
Kolon Industries, Inc., a leader in South Korea for industrial materials, films for electronics, chemicals and fashion, is proud to announce they will be awarded the Display Component of the Year Award for their Colorless Polyimide (CPI™) film at the 2018 Display Industry Awards (DIAs). Presented by the Society for Information Display (SID), the 2018 DIAs recognize innovative display products, components and applications that hold the most promise for shaping the future of the global industry.
"Our Colorless Polyimide film is contributing to the realization and advancement of a new era of flexible displays by enabling the commercialization of high-quality products with new capabilities. We are very pleased to receive this recognition from SID," said Kolon Industries vice president Dr. Chung-Seock Kang.
Kolon succeeded in making a fully transparent colorless polyimide. Conventional polyimide films are yellow in color, preventing their use in general-purpose displays. Kolon's CPI™ is the first available wide-roll film to enable flexible, foldable, and rollable devices, creating a wide range of new possibilities and significantly impacting a multi-billion-dollar market. Not only can Kolon's flexible CPI™ replace glass for cover windows, but it can replace all glass components in display devices or substrates for touchscreens and the thin-film transistors used in flat-panel displays.
"This flexible, foldable display material is now being mass produced, which means more device manufacturers will have access to it ," explained Laura Schoppe, president of technology transfer consultancy Fuentek. The consulting firm used its expertise in intellectual property management to introduce Kolon's technology to key industry influencers across the globe. "Kolon deserves this award for their hard work in changing device displays as we know them today."
Kolon Industries is currently the only company that can mass produce colorless polyimide film. Kolon's CPI™ is built with a patented, high heat resistant, optically and mechanically superior material. Its benefits offer the potential to revolutionize flexible displays, organic light-emitting diodes (OLEDs), consumer devices and other transparent flexible electronics. The technology offers optical transparency of 90 percent, over 6GPa modulus, 2H surface hardness, superior folding properties, roll-to-roll processing capabilities, has a smooth surface finish and is tunable with various functional treatments. Kolon's roll-to-roll process will also create significant cost savings for display manufactures by eliminating the need for Capex as part of glass processing.
"The SID Display Industry Awards recognize the best display products or applications introduced to the market during the previous calendar year," noted Wei Chen, SID's Display Industry Awards Committee Chairman. "We are proud to award Kolon Industries, Inc., a 2018 Display Component of the Year honor for its Colorless Polyimide. We commend the company's ongoing commitment to innovation and to helping shape the future of display performance and solutions."
For more information on Kolon's CPI™ and to discuss possible applications for it, please visit booth 235 at Display Week 2018 in Los Angeles or visit http://bit.ly/kolonCPI.
IMAGES
High-resolution images are available for downloading at http://bit.ly/KolonCPIphotos
About Kolon Industries, Inc.
Since the first nylon production in Korea in 1957, Kolon Industries, Inc., has made a significant contribution to national economic growth. Focusing on four major business divisions—industrial materials, chemicals, films/electronic materials and fashion—the company has become a leader in each industry. Kolon industries is now globalizing its businesses of automotive materials, advanced materials, optical films, chemical and fashion industries by increasing investment in high-value products.
About Fuentek, LLC
Fuentek, LLC, is a technology transfer consultancy that serves as a trusted advisor to innovation organizations in academia, industry and government around the world. From intellectual property management to marketing and communications to strategic solutions, Fuentek helps clients achieve their technology transfer and R&D commercialization goals. Fuentek also provides training workshops and webinars and is frequently tapped as an expert in industry articles and seminars. Led by Laura A. Schoppe, who founded the company in 2001, the Fuentek consulting team offers a combination of technical expertise and business experience as well as award-winning writers and designers.
About the DIA
The Display Industry Awards (DIA) are the most prestigious awards in the display industry. Each year since 1995, SID's international awards committee—comprising a distinguished panel of display luminaries—has honored the most innovative display products, components, and applications with the greatest promise of shaping the future of the display industry. This year's DIAs will be presented at the SID International Symposium, Seminar and Exhibition, also known as Display Week 2018—the premier international gathering of scientists, engineers, manufacturers and users in the field of electronic information displays. Display Week 2018 will be held in May in Los Angeles, California. For more information on the DIAs or Display Week 2018, please visit: http://www.displayweek.org or follow us on LinkedIn, Facebook and Twitter @DisplayWeek, hashtag #DisplayWeek18.
About SID
The Society of Information Display (SID) is the only professional organization focused on the display industry. In fact, by exclusively focusing on the advancement of electronic-display technology, SID provides a unique platform for industry collaboration, communication and training in all related technologies while showcasing the industry's best new products. With more than 6,000 members worldwide, the organization's members are professionals in the technical and business disciplines that relate to display research, design, manufacturing, applications, marketing and sales. To promote industry and academic technology development, while also educating consumers on the importance of displays, SID hosts more than 10 conferences a year, including Display Week, which brings industry and academia all under one roof to showcase technology that will shape the future. SID's global headquarters are located at 1475 S. Bascom Ave., Ste. 114, Campbell, CA 95008. For more information, visit http://www.sid.org.