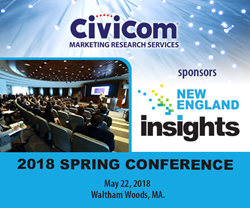 Civicom continues its involvement in innovating market research solutions with key influencers in market research at the NEIA Spring Conference.
GREENWICH, Conn. (PRWEB) May 17, 2018
Leading global provider Civicom Marketing Research Services is a sponsor and exhibitor at the New England Insights Association (NEIA) Spring Conference. The event will be held at The Conference Center in Waltham, Massachusetts on May 22, 2018.
The NEIA Spring Conference brings the marketing research community together in a collaborative opportunity to learn about the latest methods and tools needed to uncover modern consumer behavior. The one-day event hosts a lineup of industry influencers and insiders who will share invaluable knowledge on the latest marketing research approaches and applications, covering topics such as data integration, customer segmentation, polling methodology, storytelling, and tracking consumer behavior in the digital age.
Civicom, leading provider of market research solutions, highly supports innovation-driven opportunities to learn with the marketing research community. As a frequent sponsor of marketing research conferences and a supporter of many other innovative initiatives, Civicom works hand-in-hand with marketing research professionals in developing tools and solutions designed to help bring them closer to uncovering consumer insight.
This year, Civicom will showcase their audio and video management solution for researchers who utilize telephone and web-enabled marketing research. Civicom's latest offer will help researchers extract analytics and reporting data from deliverables attained from phone and web in-depth interviews and focus groups. Civicom will also bring their wide range of solutions designed to enhance the marketing research process for insight professionals worldwide.
About NEIA
NEIA, the New England Insights Association (formerly NEMRA), is the regional chapter of the Insights Association, an organization inspired by the 2017 merger of Council of American Survey Research Organizations (CASRO) and the Marketing Research Association (MRA). All Insights Association proceeds are invested in advocacy, education and other initiatives to directly support the marketing research and analytics community. The new Insights Association helps empower intelligent business decisions as a voice, resource and network advancing the companies and individuals engaged in this important work.
About Civicom Marketing Research
Civicom Marketing Research Services offers many options to enhance the research process for marketing research professionals. Civicom is the global leader in facilitating telephone and web-enabled IDIs and Focus Groups using Civicom CyberFacility®. Civicom also offers Civicom Chatterbox®, an asynchronous research platform for online communities and bulletin boards, plus the Civicom ThoughtLight™ Mobile Insights App, a mobile qualitative tool for collecting richer in-the-moment insights, offering geolocation plus offline accessibility for places where there is no data connection.
Civicom ThoughtLight™ works with both iOS and Android and is a useful tool for shopper insights, audio diaries and patient journeys. Civicom operates in over 96 countries and offers extensive translation services for marketing researchers, as well as transcription services through TranscriptionWing™, and respondent recruiting through CiviSelect™. All of these services are available in Spanish, as well as English, and multiple other languages.
Civicom Marketing Research Services continues to be at the forefront of innovation and new strategies in marketing research, actively participating in various conferences and networks that engage in developing new techniques with the latest technologies globally. Civicom is known among its clients for dedication to service quality and for the company's motto "Your Project Success Is Our Number One Priority."
Civicom Marketing Research Services chooses to be as dynamic as it is innovative; always listening to and acting on clients' ideas and requests as they see fit. This kind of relationship has paved the way for the development and roll-out of new services.
To learn more, email Civicom® at inquire(at)civi(dot)com or call +1-203-413-2423.