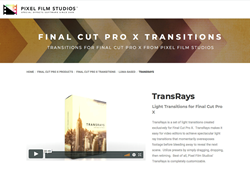 "Creating eye-catching cinematic scenes is made even easier with TransRays for Final Cut Pro X!"
ALISO VIEJO, Calif. (PRWEB) May 18, 2018
TransRays is a set of light transitions created exclusively for Final Cut Pro X. TransRays makes it easy for video editors to achieve spectacular light ray transitions that momentarily overexposes footage before bleeding away revealing the next scene. Utilize presets by simply dragging, dropping, then retiming the transition. Best of all, Pixel Film Studios' TransRays is completely customizable.
TransRays stunning transitions gradually overexpose the luminance in the footage– creating the effect of a blast of light. TransRays is the perfect complement to wedding videos, fashion vlogs, and cinematic productions. Instantly add a blast of light to seamlessly transition from one scene to the next.
With Glint Controls, video editors are instantly able to create new transitions with a variety of glow, glint, and exposure effects. Utilize color swabs to change the inner and outer ray colors. Streaks slider controls allow editors the option to change the number of glint streaks seen in overexposed areas as the footage transitions. Using the intensity slider, users can change the mix of the ray effects.
TransRays features on-screen controls that allow users to easily make adjustments to the look and feel of the light rays. Adjust the position on-screen control to change the origin point of the light rays. With the strength on-screen controls, users can alter the length of the rays to create more subtle or stronger effects. Create brand new looks with intuitive controls in Final Cut Pro X.
Transitioning in Final Cut Pro is as easy dragging and dropping. First, find TransRays in the transitions section, then drag a preset between two clips in the FCPX timeline. To change the duration of the transition, adjust the transition handles. For a shorter transition, bring the handles closer to the center of the transition and vice-versa.
Established in 2006, Aliso Viejo, California-based Pixel Film Studios is an innovative developer of visual effects tools for the post-production and broadcast community. Their products are integrated with popular non-linear editing and compositing products from Apple FCPX. Apple, the Apple logo, Mac OS X, and Macintosh are registered trademarks of Apple Inc. in the U.S. and/or other countries. All other trademarks and trade names are the property of their respective owners.