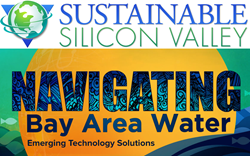 We're delivering incredible results for businesses in the commercial and industrial sector that are heavily dependent on water and are facing rising energy costs.
SAN LEANDRO, Calif (PRWEB) May 17, 2018
Silicon Valley's water resources face a number of escalating pressures. Climate change brings hotter, drier weather, making Silicon Valley's water supply and storage less reliable. A growing Bay Area population, expected to add two million people over the next 25 years, places further demands on the region's water supply. PTG Water & Energy® (PTG), an innovator of integrated power generation and water efficiency systems, is one of several local companies that will convene later this month to discuss innovative approaches and solutions to reduce the region's water consumption.
"Navigating Bay Area Water" is the fifth large water event produced by Sustainable Silicon Valley, a multi-stakeholder collaborative initiative to facilitate measurable projects that deliver tangible solutions to create a Net-Positive Bay Area. This year, more than 150 water leaders and decision makers from local government, tech companies, agencies, water technology companies and NGOs will share their insight, experience and vision at this highly interactive event that is focused on transformative technology and the policy necessary for water reuse implementation.
Greg Ryan, CEO and co-founder of PTG Water & Energy, will present a session titled "Two-for-One Sustainable Technologies — building a foundation towards 100% renewable energy and water reuse." Mr. Ryan will discuss how his company has already enabled California companies and water-treatment plants to reduce their water consumption by as much as 50 percent while simultaneously generating electricity sufficient to power their operations. PTG's system is already reducing the water and energy needs of the City of Graton (California), Golden Road Brewing, and Smog City Brewing.
"Our water-energy platform provides the foundation for getting to 100 percent renewable energy and 100 percent water reuse," said Greg Ryan. "We're delivering incredible results for businesses in the commercial and industrial sector that are heavily dependent on water and are facing rising energy costs. That's why we're such enthusiastic supporters of the Sustainable Silicon Valley programs, and we're looking forward to meeting other innovators who are focused on water stewardship and ensuring a sustainable carbon footprint for the Bay Area."
"SSV is delighted to host Navigating Bay Area Water, where 150 water leaders will hear about inspirational water projects from diverse speakers such as Facebook, which is installing one of the first blackwater systems in California, to Intel, which has saved 60 billion gallons of water over the past two decades," said Cindy Clark, senior water director at Sustainable Silicon Valley.
About the event

Navigating Bay Area Water will be held at the Palo Alto Mitchell Park Community Center
Thursday, May 31, 2018. 12:00 p.m. – 6:00 p.m. Register here.
Greg Ryan, CEO, PTG Water & Energy, "Two-for-One Sustainable Technologies" (scheduled for 2:35 p.m.)
To set up a meeting with Mr. Ryan at the event, contact Tim Cox at tim(at)zingpr.com
About PTG Water & Energy
PTG Water & Energy specializes in integrating water and energy operations for its customers, creating platforms that reduce waste, cut costs, and ultimately deliver attractive returns on investment. In addition, the system platforms collect previously unobtainable data to deliver increased production efficiencies and predictive service analytics. PTG's technologies are positive from a sustainability perspective; they greatly increase the efficiency of resource use by reducing waste and supporting water reuse. This means less consumption and greenhouse gas emissions. PTG has won numerous awards including the Katerva Award, the Artemis Top 50 Water Tech award, and the Popular Science "Best of What's New" award. For more information, visit http://www.ptgwe.com and follow us on Facebook, LinkedIn and Twitter (@PTGWaterEnergy).