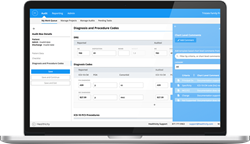 Audit Manager Facility is brilliant because it gives you the power of accuracy and speed.
SALT LAKE CITY (PRWEB) May 17, 2018
Healthicity, a healthcare software company, announced today the launch of a brand new product, Audit Manager Facility. Now, with Audit Manager Facility, healthcare professionals and auditors can conduct audits for any encounter type, inpatient or outpatient, for either coders or providers.
Audit Manager Facility introduces a new user interface that keeps the entire audit process on a single page. And according to Healthicity, the new addition leads to improved efficiency rates by up to 40% by reducing the amount of time individuals spend choosing who to audit and completing audits.
Audit Manager Facility features cloud-based access, in-depth reporting on any aspect of any completed audit, and flexible audit management. In addition, Audit Manager Facility is customizable. Users have the option to customize audit templates, chart level comments, findings, and recommendations. Users can also customize their own standards/guidelines and checklists.
Jeff Young, Vice President of Product Development, Healthicity, said, "Audit Manager Facility is brilliant because it really gives you the power of accuracy and speed. And, it's easy on the eyes with a sleek and modern design that is both intuitive and user-friendly. But best of all, users can minimize denials and identify up to 10% in missed revenue opportunities as a result of using Audit Manager Facility. Compliance professionals and auditors alike absolutely love it because for half of the effort they get twice the results."
About Healthicity: Healthicity (http://www.Healthicity.com) is driven by the idea of delivering simple, intuitive solutions that solve the challenges you face in healthcare. We are engineers, coders, auditors, artists, and teachers. And where some see complexity, we see opportunity.