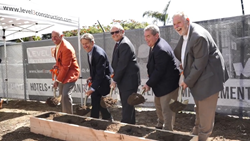 "...it's going to be one of the jewels of The Village." -Mayor of Carlsbad, Matt Hall
CARLSBAD, Calif. (PRWEB) May 18, 2018
Level 3 Construction, a local company and leader in hospitality construction, takes on one of the most exciting new developments in the city of Carlsbad. Carlsbad Mineral Springs Health Resort, a four-story mixed-use spa resort, will revamp a currently vacant quarter-acre lot in The Village, where the original Carlsbad Hotel once stood in 1896. Focusing on history and wellness, this quality project is the perfect addition to the neighborhood.
The Village, one of Carlsbad's first neighborhoods, is a favorite destination for both locals and visitors alike. Surrounded by its historic roots, this charming seaside community is filled with restaurants, hotels, farmers markets, and boutique shopping. It's close proximity to beaches and the excellent climate in this quaint intimate village makes for an ideal setting for this one of a kind wellness retreat.
Carlsbad Mineral Springs Health Resort, will consist of 18 luxurious suites, 9 wellness lifestyle condominiums, a joint rooftop deck for the hotel and spa, and ample underground parking. Tapping into the city's alkaline water, this wellness spa will incorporate pure mineral water from Carlsbad's 135-year-old wells. The spas concept will include true relaxation through its natural treatments and extended stay options. Owner and developer behind the project, Bill Davidson, of Beach Village Life 1 LLC, envisioned giving guests a serene environment with option to stroll through town or walk along the beach, providing a true "Beach Village Life Lifestyle".
"We are using all local people-- civil engineering, structural engineering, and I couldn't believe it, I was told about this really great contractor, Level 3 Construction and little did I know that a dear friend of mine, it is part of his family! So, I stand before you that this is a local project by local people and its going to change lives forever," said Robert Richardson, one of the projects architects at the Groundbreaking ceremony.
About Us
Founded in 2006 by President and CEO Ian Mahon, Level 3 Construction, located in Carlsbad, California, is known for being a leader in hospitality renovation and construction with a growing presence in multifamily, restaurants, office and T.I.'s. Our project experience ranges from small interior renovations and tenant improvements to multi-million dollar ground up hotel and restaurant construction and renovations. Level 3 collaborates with developers, owners, architects and property owners to implement the most efficient and cost-effective solutions that will reinvigorate a property. Level 3 Construction continues to grow its portfolio of work through quality performance and on-time completion of projects. To learn more about Level 3 Construction's services, contact John Gonzalez at 760-448-5456 or by email jgonzalez(at)level3construction(dot)com