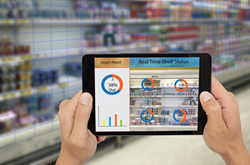 Technology is a key driver of retail profitability. Today's consumers expect nothing less than real-time product availability and location data.
HOBOKEN, N.J. (PRWEB) May 17, 2018
A NYC area IT consultant and MSP reviews the IoT inventory management technologies behind today's seamless, multi-channel retail customer experience in a new article from eMazzanti Technologies.
The informative article describes the forces driving the need for better inventory management and shows how radio frequency identification (RFID) asset tracking enables real-time inventory capabilities. The use of smart shelves and analytics to predict demand are also discussed.
"Technology is a key driver of retail profitability," stated Jennifer Mazzanti, CEO, eMazzanti Technologies. "Today's consumers expect nothing less than real-time product availability and location data."
Below are a few excerpts from the article, "IoT Inventory Management Enables Seamless Customer Experience"
IoT Inventory Management Needed
"Smart retailers reach out to customers through multiple channels, offering a unified experience from physical storefront to web site to social media. For example, consumers have grown to expect the ability to begin a purchase online and complete the process in-store. Providing that option poses new challenges for retailers."
"Recent studies show retail inventory accuracy at roughly 65 percent, indicating significant revenue loss due to out-of-stocks and overstocks. Using connected technology such as RFID tags and smart shelves, retailers can boost both accuracy and profit."
Asset Tracking with RFID
"Betting on connected technology, Macy's department store embarked on an ambitious experiment. By the end of 2018, the retail giant intends to use RFID to track every item in its physical stores and fulfillment centers. Halfway through the experiment, Macy's already reports significant improvement in both inventory accuracy and sales volume."
Predicting Demand
"Using a combination of RFID technology and sensors, stores can predict and quickly respond to demand. For instance, smart shelves in-store and in the warehouse can track the number of a specific item on the shelf. Sensors can determine how long an item remains on the floor."
Strategic Implementation of IoT Inventory Management
While IoT inventory management promises greater supply chain visibility and proven gains in inventory accuracy, retailers need to plan carefully to optimize their return on investment. RFID tags and scanners can prove costly, and data is only useful with effective analytics.
With the assistance of seasoned retail technology experts, retailers can explore their options and determine where they might benefit most from implementing retailer cloud solutions with connected technology to improve inventory management.
eMazzanti Technologies serves the retail industry with comprehensive retail technology solutions. The company's retail experts help to balance efficiency and security to support growth in today's multi-channel retail environment.
Related resource information:
3 Reasons to Check Out HP's New Point of Sale System
Smart Selling: Why PCI Compliance Should be Your Primary Concern
About eMazzanti Technologies
eMazzanti's team of trained, certified IT experts rapidly deliver retail and payment technology, digital marketing services, cloud and mobile solutions, multi-site implementations, 24×7 outsourced network management, remote monitoring and support to increase productivity, data security and revenue growth for clients ranging from law firms to high-end global retailers.
eMazzanti has made the Inc. 5000 list eight years running, is a 2015, 2013 and 2012 Microsoft Partner of the Year, 2016 NJ Business of the Year, 5X WatchGuard Partner of the Year and one of the TOP 200 U.S. Microsoft Partners! Contact: 1-866-362-9926, info(at)emazzanti(dot)net or http://www.emazzanti.net Twitter: @emazzanti Facebook: Facebook.com/emazzantitechnologies.