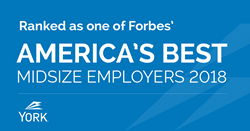 JERSEY CITY, N.J. (PRWEB) May 17, 2018
York Risk Services Group (York), the leader of catastrophe and large-loss claims services and the third largest TPA nationally, has been named on Forbes' list of America's Best Midsize Employers for 2018. This marks the second consecutive year York has been recognized, reflecting the company's strong focus on its core values and commitment to quality.
Forbes, in partnership with Statista.com, conducted the anonymous online survey from a sample of 30,000 American workers spanning midsize and large U.S. organizations with more than 1,000 employees. Willingness to recommend one's own employer was given the most weight in the survey.
"York is honored to once again receive this recognition from Forbes," said Thomas W. Warsop, III, Chairman of York. "But what we are most proud of is the vote of confidence from our employees, who live our corporate values every day."
"It's through their great work and dedication that we fulfill our mission of getting people and organizations back to health, work and productivity. Thanks to each and every York colleague for helping to create a company—and a workplace—that we can all be proud of."
###
About York Risk Services Group
For more than 55 years, York has been delivering results our clients can see and feel. We serve corporations, the insurance industry and public entities to reduce risk and drive high-quality outcomes. We do this by offering integrated and customized risk solutions including claims management, managed care, absence management and risk management. And with proprietary predictive analytics and our strategic approach, we are able to deliver on our mission of helping people and organizations get back to health, work and productivity. York has more than 5,000 employees and is headquartered in Jersey City, N.J. Learn more at yorkrsg.com.
For more information contact:
Maria Conry
Chief Marketing Officer
York Risk Services Group
614.789.3754
maria.conry(at)yorkrsg.com