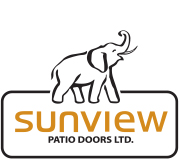 We have a sharp focus on product innovation and believe the Leggera offers something truly unique in an industry where differentiation can be a challenge.
TORONTO (PRWEB) May 23, 2018
Sunview Patio Doors Ltd. announced today the official launch of Leggera, a revolutionary glass wall offering that uses a patented magnetic levitation system to support large, customized panel sizes for sliding glass wall applications. The initial unveiling of Leggera recently took place at the 2018 Top Glass show in Toronto. The crowd in attendance showed great interest in Sunview's groundbreaking new concept and the technology that makes it possible.
According to Sunview Patio Doors President Tony Margiotta, "We have a sharp focus on product innovation and believe the Leggera offers something truly unique in an industry where differentiation can be a challenge." Margiotta continued, "Eliminating the need for rollers, track systems, and sills, provides us the ability to design and manufacture sliding glass solutions that were previously impossible to make. Leggera opens up a whole new world of flexibility for home, commercial, and luxury leisure use."
What makes the Leggera special is its ability to support a wide range of panel sizes and weights. The powerful magnet-based system lifts and suspends the door completely off the floor which allows a person to easily slide panels that can exceed weights of 1,000 pounds. With such little resistance needed to open the Leggera and having a minimal sill height design, this product is a perfect fit for ADA (Americans with Disabilities Act) applications as well.
Sunview developed the Leggera in partnership with Savio Thesan USA, a specialized provider of advanced hardware for windows, patio doors, and many other products. According to Patrick Revenew, Savio Thesan USA President and CEO, "The Leggera represents a perfect example of how partnerships can bring innovative new products to market. We contribute the technology that makes it all possible and also manufacture some critical components of the system. Sunview completes the picture with its strong product design, manufacturing, and go-to-market capabilities."
With an unprecedented seven layers of glass, the Leggera has a thermal performance rating of R-15, which is very impressive given the sizes of glass panels that will typically be used. When the door is closed, the full weight is concentrated solidly at the bottom of the structure, and this provides the ultimate seal for sound insulation and protection from wind, rain and other elements.
About Sunview Patio Doors Ltd.
Sunview Patio Doors designs, manufactures, and distributes a full range of vinyl and aluminum patio doors, including several revolutionary Glass Wall Systems. With 40 years in the business, the company is a leader in the industry across North America and has accelerated growth through design innovation and operational excellence. Sunview serves architects, developers, and construction companies. It also works with a growing network of window and door fabricators, and other partners to service residential markets. For many of their products, Sunview leverages world-renowned vinyl extruded by its parent company, the Vision Group. Located in Woodbridge Ontario, Sunview offers one of the most comprehensive warranties available, and delivers superior quality products and outstanding service, at competitive prices.
About Savio Thesan USA
Savio Thesan USA located in Rochester, NY was founded in early 2015 via a partnership agreement with Savio S.p.A which is headquartered in the Torino, Italy region. Savio S.p.A (family owned and operated) which was founded in 1889 remains a world leader in the development and production of hardware solutions by servicing more than 60 countries around the globe. Savio S.p.A and Patrick Revenew have been working professionally in North America for more than 20 years, which is why the collective decision was made to establish an official location in North America.