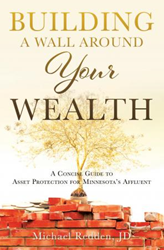 Lawsuits, divorce and many other dangers exist to threaten the wealth of Americans
NEW HOPE, Minn. (PRWEB) May 19, 2018
Within the pages of Building a Wall Around Your Wealth: A Concise Guide to Asset Protection for Minnesota's Affluent ($21.99, hardcover, 9781545629109; $14.99, paperback, 9781545622803; $4.99, e-book, 9781545626825), readers will learn many strategies that can be used to protect their wealth.
"Lawsuits, divorce and many other dangers exist to threaten the wealth of Americans," Michael Redden says. "There are legal techniques and structures that can be used to limit your exposure. This book is intended to educate consumers and their financial advisors."
The book discusses sophisticated uses of trusts, insurance and business structures to protect wealth.
"There is no other book in existence written for Minnesotans that explains which assets are at risk and how they can be protected," the author states. "These strategies can be applied to other states, but this is the only book that explains them under Minnesota law."
Michael Redden is a licensed attorney in Minnesota. He helps Minnesotans protect their wealth from lawsuits, plan for taxes and preserve their wealth.