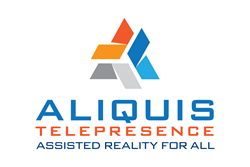 Aliquis Telepresence: Educating, Enabling and Empowering all aspects of Veterinary Medicine.
INDIANAPOLIS (PRWEB) May 19, 2018
Hodei Technology, LLC today announced the formation of Aliquis Telepresence, a wholly owned division, focused exclusively on bringing Hodei's advanced, telepresence communication platform and wearable technologies to the global veterinary market.
Aliquis Telepresence is adapting Hodei Technology's unique communication platform and wearable technologies to improve patient care and outcome in the veterinary space. As one of a handful of Glass partners, Hodei has developed a proprietary and patented use for Google Glass Enterprise Edition for medical applications. The company's POV® (Point of View) platform provides live, two-way, on-demand connectivity that can connect remote specialists and experts with the front end of veterinary care, opening a new way to educate, enable and empower the entire veterinary team.
Aliquis Telepresence's technology has the potential to advance veterinary medicine by fundamentally changing the status quo in the delivery of patient care, the training of veterinarians and veterinary staff, and introducing and utilizing technology throughout the global veterinary market.
"Telepresence provides us with an opportunity to revolutionize veterinary care by bringing the expertise of a specialist directly to the level it's needed – at the clinic or hospital," said Dr. Brian Huber, DVM, ABVP, president of Aliquis Telepresence. "Using telepresence engages the general practitioner, the specialist and the pet parent in the therapeutic pathway – ensuring earlier intervention, better treatment options and better clinical results."
Dr. Huber brings 30 years of experience in veterinary telemedicine, ultrasound, oncology, business development and hospital ownership to Aliquis. He commented, "It all came together when I met the Hodei Technology team. I knew in a moment just how powerful the telepresence technology would be and the impact it could have across many areas of veterinary and human medicine."
"We see tremendous potential for telepresence in the veterinary space," said Guy Mascaro, CEO Hodei Technology. "As a Glass partner, we have been fortunate to be aligned with Google in finding ways to address veterinary and human health care. The Aliquis Telepresence division offers us an opportunity to take this technology and open doors exclusively to veterinary hospitals, businesses, universities and others, and help demonstrate the impact that our telepresence platform can provide."
About Aliquis Telepresence
A division of Hodei Technology, Aliquis Telepresence develops and delivers a real-time, telepresence technology communications platform to the veterinary industry to facilitate and enhance the delivery of patient care and clinical outcomes for general practitioners, veterinary hospitals, teaching institutions and veterinary specialists.
About Hodei Technology (http://www.hodeitech.com)
Hodei Technology, LLC develops and deploys highly mobile, HIPPA compliant, real-time remote telepresence communication solutions that are used by healthcare systems to facilitate and enhance care delivery between healthcare providers. HCview GEMINI TM is a user requested two-way POV® platform to provide remote physician access to areas without local medical expertise or specialists. The system has been optimized for low-bandwidth networks and integrates data and video from medical devices such as ultrasound, stethoscope, fluoroscope, and others. HCview IKASI TM is a one-to-many platform designed for remote surgery proctoring. The system uses multi-peripheral views with POV® broadcasting to connect one dynamic mentor screen and multiple observer screens to virtually attend the surgery.