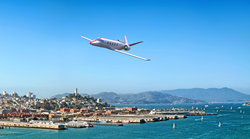 "JetSuite, with its tradition of shifting paradigms in aviation, is an ideal partner for us in this launch collaboration," said Zunum Aero CEO Ashish Kumar. "We have a shared vision for fundamentally transforming and improving the way that people live and travel."
SEATTLE, Wash. and IRVINE, Calif (PRWEB) May 21, 2018
Zunum Aero, a pioneer in electric aviation, and JetSuite, Inc., a leading private aviation company, revealed today that JetSuite will be the launch customer for Zunum's hybrid-to-electric aircraft. The aircraft, the first of a planned family of regional platforms, seats up to 12 passengers and is slated for delivery in 2022.
"JetSuite, with its tradition of shifting paradigms in aviation, is an ideal partner for us in this launch collaboration," said Zunum Aero CEO Ashish Kumar. "We have a shared vision for fundamentally transforming and improving the way that people live and travel."
Bringing major airliner operating economics to a mid-sized platform, the Zunum aircraft will enable JetSuite to provide fast, quiet and comfortable service to its customers while reducing its carbon footprint by up to 80 percent. Through the partnership, JetSuite will add up to 100 Zunum Aero aircraft to its fleet.
"We are thrilled that Zunum, a JetBlue Technology Ventures portfolio company, has chosen JetSuite, a JetBlue Airways partner, to be its launch customer for its hybrid-to-electric aircraft. This is a great partnership that will help to transform the regional travel ecosystem," said Bonny Simi, President, JetBlue Technology Ventures.
Zunum aircraft are well-positioned to refresh the roughly $1 trillion stock of aircraft currently serving regional routes. Notably, Zunum has disclosed that its range-optimized aircraft features a maximum cruise speed of 340 mph, and with a low runway requirement of 2,200 feet for takeoff.
Alex Wilcox, founder and CEO of JetSuite and JetSuiteX, states, "At JetSuite and JetSuiteX, we appreciate the boldness required to change the status quo, and we see it in spades at Zunum. We share Zunum's vision for hybrid to electric aviation. With this partnership, we expect to bring ever more efficient and environmentally friendly aviation solutions to our private and semi-private jet customers."
The Zunum Aero aircraft are optimized for distances up to 1,000 miles, where efficient travel options are limited, with low numbers of regional flights, high costs and cumbersome door-to-door travel times, making it a perfect fit for the short-haul private and semi-private travel offered by both JetSuite and JetSuiteX. By reducing noise and emissions by 80 percent, these aircraft are positioned to fly near residential communities, accessing over 5,000 underutilized airports in the U.S., reducing door-to-door travel times and costs.
Through its operating companies, and over its nearly 10 years of operation, JetSuite has long held a commitment to enabling convenience and efficiency in regional aviation. Delivering on that commitment in a more cost effective, environmentally sound manner is highly appealing to both JetSuite and JetSuiteX.
Zunum Aero remains on track for flight testing in 2019, rapidly growing its technical bench across power electronics, electric motors, propulsors and aircraft. Leveraging proven technologies for this novel application, the company's engineers have experience working on some of the most advanced aircraft and engines in the industry.
"In short order, Zunum and JetSuite will prove out a model that is incredibly innovative," said Logan Jones, managing director at Boeing HorizonX, a Zunum Aero investor. "We look forward to seeing the impact of a partnership between two exciting companies in aviation."
About Zunum Aero
Zunum Aero is building a family of commercial hybrid-to-electric aircraft designed for regional transit, and powered by quiet range-optimized powertrain and propulsion technologies. The company's vision is to develop 1,000-mile electric air networks to bring fast and affordable travel to every community. Founded in 2013, Zunum Aero is funded by Boeing HorizonX, JetBlue Technology Ventures, and the State of Washington Clean Energy Fund.
About JetSuite
JetSuite provides flying that moves your soul through transparent pricing, efficient operations, acute attention to detail, acclaimed customer service, and industry-leading safety practices. Offering a WiFi-equipped fleet of jets across the US, JetSuite was recently ranked #1 in light jet utilization by ARGUS. Under the leadership of CEO Alex Wilcox, a JetBlue founding executive, JetSuite is IS-BAO certified and rated Platinum by ARGUS, the highest possible safety rating in the private jet industry. For information please visit http://www.jetsuite.com.
About JetSuiteX
JetSuiteX began offering public charter service in April 2016 with regular flights between select West Coast markets. JetSuiteX provides the speed and comfort associated with private jet travel but for the price of a traditional airline seat, including:

Flight departures from private jet terminals so the experience is faster and more comfortable, with no airport terminal delays, security lines, waiting for gates or long walks through terminals;
30-seat regional jets, each with legroom comparable to domestic airlines' business class service;
Free seat assignments with power at every seat;
A spacious, soundproofed cabin interior covered in soft leather, and
Free drinks and snacks.
JetSuiteX's luxuriously appointed E-135 jets can also be chartered for group trips, corporate events or other travel. For a custom quote, contact JetSuiteX at 800-IFlyJSX.
For information, please visit http://www.JetSuiteX.com.
About JetBlue Technology Ventures
JetBlue Technology Ventures invests in, incubates and partners with early stage startups at the intersection of technology and travel to improve the entire travel experience. The company prioritizes investments that advance the customer-centric journey; technology empowered customer service; the future of operations and maintenance; revenue management, sales & distribution; and new regional transport ecosystems. Founded in 2016, JetBlue Technology Ventures is a wholly-owned subsidiary of JetBlue (NASDAQ:JBLU) and is located in Silicon Valley, Calif.
For more information, visit http://www.JetBlueVentures.com.