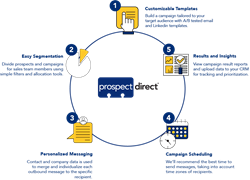 DALLAS (PRWEB) May 18, 2018
Prospect Direct®, a data solution that connects B2B sales professionals with the right decision makers at their target accounts, announces its market-wide rollout this month following a successful soft launch. Prospect Direct® promises a quicker path to closing deals by offering the highest quality data, advanced targeting tools, and a platform that makes prospect introductions on behalf of customers.
How Prospect Direct® can help
According to Co-Founder and CEO Alex Oswiecinski, the biggest challenge for new B2B domestic companies and larger companies expanding overseas is not being able to find and engage the right people directly.
"We started by helping franchise brands proactively find international franchisee prospects that met their criteria. I knew this space from my own background in franchise development, but we soon found that the supplier community needed this service as well, whether to break into national accounts or distribute their products directly to business owners, without expensive advertising or middlemen."
By having comprehensive intelligence on verified and qualified prospects in more than 100 countries, Prospect Direct® ensures multiple channels of communication that makes for a more efficient sales process. This groundbreaking new platform eliminates the need for brokers, trade shows, and blind advertising to connect directly with decision makers globally.
Who can benefit from Prospect Direct®
Prospect Direct® works with companies of all sizes in foodservice, franchising, hospitality and retail industries. Sales professionals can build lists based on their ideal customer profile to accelerate development.
According to Oswiecinski, its proprietary system compiles raw data from thousands of company websites, public records, directories and social media profiles, then "cross-references and verifies it several ways so that customers only see current information on business decision makers." This data refinement process, coupled with personalized introductions via email or LinkedIn, opens conversations with key contacts, allowing companies to focus tight budgets on achieving results. "Our goal is for salespeople to be on the phone and travelling to close deals, rather than spending time on early-stage lead generation and prospecting."
About Prospect Direct®
Prospect Direct® helps salespeople in foodservice, franchising, hospitality, and retail industries find and engage their ideal B2B customers in over 100 countries. They specialize in verified direct contact data on business decision-makers. The powerful Prospect Select™ tool creates a custom pipeline of prospects meeting specific customer criteria. The Sales Assistant™ platform automatically personalizes emails and LinkedIn messages using company data. Outreach is done on behalf of customers to start the prospect conversation, and replies come directly to their inbox. Visit http://www.prospectdirect.com for more information.