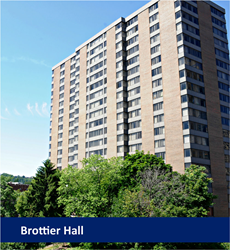 "COCM is excited to team with Radnor Property Group and Harrison Street Real Estate Capital for the management of Brottier Hall. Our Student Housing Professionals look forward to serving this team and the Duquesne University student residents for many years to come." - Alton Irwin, CMO, COCM
BIRMINGHAM, Ala. (PRWEB) May 18, 2018
COCM ("Capstone On-Campus Management) is pleased to announce its recent selection to serve as the manager of Brottier Hall, an apartment-style campus residence hall at Duquesne University. This comes as part of a larger partnership between Duquesne University, Radnor Property Group ("Radnor") and Harrison Street Real Estate Capital ("Harrison Street") to modernize and renovate the property. The Duquesne project marks the first COCM on-campus partnership with Radnor and the fourth with Harrison Street.
Located on the corner of Boyd and Locust Street, Brottier Hall, a 20-story building on Duquesne University's campus, houses approximately 660 juniors, seniors and graduate students in studio, 1- and 2- bedroom apartments, with retail on the street level. The redevelopment that is expected to be finished over four summers (beginning in 2018), will include new flooring and finishes, bathroom plumbing and electrical fixtures, vanities and bathtubs, kitchen cabinets, countertops and appliances, and new windows throughout the building, among other improvements.
The addition of Brottier Hall extends COCM's reach into Pittsburgh, a new city for the company. COCM's Student Housing Professionals are honored by this selection and dedicated to enhancing the living and learning experience for the students of Duquesne University.
About COCM
COCM is a company of talented Student Housing Professionals focused on leveraging on-campus housing to enhance recruitment and retention as well as student satisfaction and success. Headquartered in Birmingham, Alabama, COCM currently provides management services for 33,498 beds at 38 campuses. They also offer Fresh Eyes Consulting for helping campuses with strategic housing planning. For more information, visit http://www.cocm.com
About Radnor Property Group
Radnor Property Group of Wayne, PA is a leading real estate development company which specializes in complexed urban development projects in Educational and Medical corridors, involving non‐profit institutions in public-private partnerships. Over the past 10 years, Radnor has undertaken development projects involving 25 institutions of higher education, all in the Northeast. For more information, please visit http://www.radnorproperty.com.
About Harrison Street Real Estate Capital
Harrison Street Real Estate Capital LLC is one of the leading real estate investment management firms exclusively focused on the Education, Healthcare and Storage sectors. The firm has created a series of differentiated investment products across multiple risk/return strategies. Headquartered in Chicago with an office in London, the firm employs a 115‐person team and has approximately $14.6 billion in assets under management. For more information, please visit http://www.harrisonst.com.
Media Contacts
Leigh Anne Gilbert
Capstone On-Campue Management ("COCM")
255.414.6462 (o) 205.240.3378 (m)
lgilbert(at)cocm.com