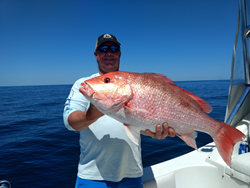 The earlier in the season you go, the closer and bigger the fish will be.
ORANGE BEACH, Ala. (PRWEB) May 18, 2018
Red snapper is not only commercially important, but is also a highly sought-after game fish. Fortunately for fishermen, red snapper season begins on June 1.
To educate anglers on how to best hook red snapper this season, Captain Michael Thomas, of Hooked Up Charters, which focuses on Gulf Shores and Orange Beach fishing, lists the following three tips:
No. 1: Fish early in the season. "The earlier in the season you go, the closer and bigger the fish will be," stressed Thomas. "We usually travel 20 miles out early in the season and as far as 35 miles later on in the season. The earlier in the season you go your chances of catching bigger snapper are better since they haven't really been pressured from fishing. The back bay area we will catch trout, redfish, flounder, black drum and juvenile mangrove snapper. Pelagic fish are always around and traveling, so you never know when a Mahi, Wahoo or a tuna will show up on your reef you are fishing."
No. 2: Get plenty of rest. It is imperative that fishermen get enough rest the night before due to early departure times for fishing. "I always look for signs of life while offshore, examples would be weed lines, birds, and temperature changes and rip lines that attract bait and predator fish," added Thomas.
No. 3: Be prepared. "If you get motion sickness, we recommend taking medication two days before the trip to allow for maximum benefits," concluded Thomas. "Also, bring plenty of sunscreen, a hat, and sunglasses, and be sure to bring a camera to document your adventure. I always have a live bait onboard ready for the live bait setup if a big fish swims near on top water and some jigs ready on at least two rods for throwing at fish."
No. 4: Always have a variety of tackle ready. "It needs to be readily available for quick changes, when the bite in on you have to always be prepared to go at a seconds notice," concluded Thomas.
About Hooked Up Charters
Hooked Up Charters specializes in family-fun fishing offshore, near shore and in the back bay. Its guests bring in red snapper, amberjack, triggerfish, red fish, cobia and king mackerel, with shark fishing available by request. Captain Michael Thomas has more than 30 years of experience and provides an unforgettable experience on the water. For more information, please call (251) 223-7558, or visit http://www.hookeduporangebeach.com. Hooked Up Charters is located at 26350 Cotton Bayou Drive, Orange Beach, AL.
About the NALA™
The NALA offers small and medium-sized businesses effective ways to reach customers through new media. As a single-agency source, the NALA helps businesses flourish in their local community. The NALA's mission is to promote a business' relevant and newsworthy events and achievements, both online and through traditional media. The information and content in this article are not in conjunction with the views of the NALA. For media inquiries, please call 805.650.6121, ext. 361.