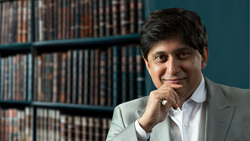 LOS ANGELES (PRWEB) May 18, 2018
Dr. Srini Pillay— Acclaimed Harvard Medical School Professor, Author, Psychiatrist, and Brain Researcher— suggests that if worry is alien to you then you should check your pulse. Studies show that worry extends across our entire lifespans- with popular topics including finances, relationships, families, health, and work.
"A small amount of worry that does not disrupt your day is normal, expected and sometimes even productive," Pillay explains. "After all, it can help you assess risks, detect and attend to threats, and focus on potential solutions to the problems you face."
Pillay further contends that when a negative thought enters your mind, people have two options— "allow worry to have a life of its own, or control it with attention."
3 Tips for Overcoming Worry
1. Find some good news
Switch off the bad news and turn on the good news. Set aside time in the morning to affirm the positive in your life. When worry starts setting in, watch a great movie, listen to a favorite song, play an online game, have a conversation with a loved one— these are all great ways to ground your worrisome, overactive mind.
2. Be what you can be
Overcome and accept the things you cannot control. Make a list of them, and when you think of them, drop them. Practice being what you want to be, rather than waiting for yourself to magically become it. Examples may include hiring a fitness trainer or finding an accountability partner. Also, forgive yourself for past mistakes and set up small wins for your future.
3. Create an anti-worry day
Take control of your day. First thing in the morning, spend five minutes writing down three things you appreciate about yourself and your life. Set small, achievable goals throughout the day.
"It's inhuman to feel no worry, so instead of searching to eliminate it from your brain altogether, use it to identify what makes you happy, what your goals are, and how you can become the greatest possible version of yourself," Pillay respectfully concludes.