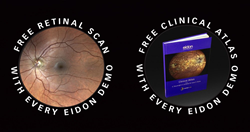 HARLOW, United Kingdom (PRWEB UK) 18 May 2018
Any eye care professional who visits the HS-UK stand and requests a demonstration of the Eidon AF will receive a FREE retinal scan and a FREE copy of CenterVue's 'Clinical Atlas'. The 'Clinical Atlas' is a 96 page hardcover book featuring a series of interesting clinical cases, collected by retina specialists, that shows examples of the Eidon AF's superior imaging capabilities.
The Eidon AF boasts fully-automated high-quality, wide-field, true colour confocal imaging using white light to capture the retina through small pupils and media opacities.
Its autofluorescence capability allows the assessment of the Retinal Pigment Epithelial (RPE) layer.
Traditional retinal cameras use a 45° view, and may leave some pathology unseen and undocumented. The Eidon AF's 60-150° high-resolution, wide-field view enables the user to image and document more pathologies. It also provides three different imaging modalities (true colour, infrared and red-free), a unique confocal view of the retina and dilation-free operation.
RCOphth 2018 will be held at the ACC, Liverpool on 21st-24th May 2018. HS-UK will be exhibiting on stand F.
For news media enquiries, please contact:
Erika Poole
Marketing Co-ordinator
Email: epoole(at)haag-streit-uk(dot)com
DDI: 01279 456260