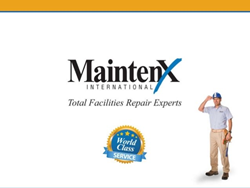 The Work Order Inception Center allows MaintenX to provide a superior level of customer service on each work order call.
TAMPA, Fla. (PRWEB) June 11, 2018
First impressions matter. MaintenX believes that a customer's expectations should be met from the moment they pick up the phone to place the first order. That's why MaintenX uses a dedicated Work Order Inception Center as the starting place for every project.
"The Work Order Inception Center is not a call center," said Bill Schaphorst, MaintenX's VP of Business Development. "Instead we provide specially trained staff to take work orders, learn about the unique requirements of each project, and make sure the project is properly entered and fully understood by the team before they're dispatched."
The Work Order Inception Center allows MaintenX to provide a superior level of customer service on each work order call. The Center tracks vital customer information, allowing MaintenX to rapidly know important details like store locations, operating hours, primary contact information, service history and preferences. As relationships grow, MaintenX customers can rest easy that work will not be duplicated, protocol will be followed and their satisfaction is guaranteed.
This attention to detail sets MaintenX apart from other facility repair and maintenance companies. Facility managers appreciate the accuracy and precision of the work order process and also benefit from MaintenX's commitment to safety. Technicians' "SafetyX" training, which emphasizes maximizing the safety of technicians, customers and equipment, is used during every work order.
MaintenX has been providing superior customer service and attention to detail for over 35 years. For more information about MaintenX or to learn how to place your own service order, visit http://www.maintenx.com.
ABOUT MAINTENX INTERNATIONAL:
MaintenX International is a fully-licensed, facilities repair company. They are one of the largest national self-performing facility maintenance and repair companies in the U.S. MaintenX has created a network of knowledgeable and professional technicians throughout the country. With their team of well-trained technicians, MaintenX self-performs and manages facility maintenance for clients. In the event there is not a MaintenX technician in the area, the company has fostered a network of preferred vendor partners throughout the country to provide superior service for their clients. For more than 35 years, MaintenX has been expertly serving multi-location retail stores, restaurant chains, and Fortune 500 companies nationwide.