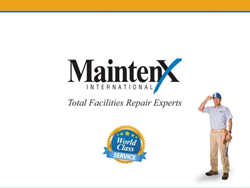 If you live where hurricanes are a frequent threat, taking time to protect your home and business windows should be a top priority.
TAMPA, Fla. (PRWEB) June 07, 2018
Preparing for and responding quickly to an emergency can be the difference between a serious problem and an insignificant setback. Tampa-based MaintenX International's rapid disaster response team is a deployable team that responds to your emergency to ensure a swift and complete resolution. The team provides specialists trained in a variety of disaster skills to assist, on demand, with your needs.
If you live where hurricanes are a frequent threat, taking time to protect your home and business windows should be a top priority. Unless your building is equipped with hurricane shutters, an approaching storm means placing protection over your windows is a top priority. The MaintenX rapid disaster response team responds to emergency situations in a timely and professional manner. They offer window board-ups, installation of emergency generators, landscaping, cleanup and more.
When it comes to windows, there are some right and wrong ways to prepare. Here are MaintenX's tips for home preparations and window protection before a big storm:
Board Up Windows -
One of the most important steps you can take to protect your home from hurricane damage is to secure and board up your windows. Plywood is inexpensive and readily available, but can run out of stock quickly when a storm is approaching. Installation requires two people, especially with large panels. Measure your windows and take the measurements with you to the store to get the plywood cut. Panels should be the correct size and at least 5/8 inch thick.
No Plywood, No Problem -
If you can't find any plywood, you can use alternative types of wood. Try insulation board, oriented strand board, or polycarbonate panels instead. Polycarbonate panels are 60 percent lighter than plywood and still allow natural light into your home, which can be helpful if the power goes out.
Don't Shatter Under Pressure -
Place security window films over the glass from the inside. Although security films are not as effective as boarding the windows up, the film will keep the glass in place if the windows do break. Glass window clips can also be used to ensure your windows stay shut.
Tips for Frequent Boarders -
If hurricanes are common where you live, take time during the offseason to screw stainless-steel hanger bolts into window framing every 16 inches, and drill matching holes in the plywood. Then, when a storm threatens, mount the panels and secure them with nuts and washers. These panels are also reusable. Prime and paint all surfaces and edges to protect them from decay. This can be done safely and efficiently, saving you time and money and reducing the stress of hurricane preparations.
For more information about MaintenX and the services they provide, visit http://www.maintenx.com.
ABOUT MAINTENX INTERNATIONAL:
MaintenX International is a fully-licensed, facilities repair company. They are one of the largest national self-performing facility maintenance and repair companies in the U.S. MaintenX has created a network of knowledgeable and professional technicians throughout the country. With their team of well-trained technicians, MaintenX self-performs and manages facility maintenance for clients. In the event there is not a MaintenX technician in the area, the company has fostered a network of preferred vendor partners throughout the country to provide superior service for their clients. For more than 35 years, MaintenX has been expertly serving multi-location retail stores, restaurant chains, and Fortune 500 companies nationwide.