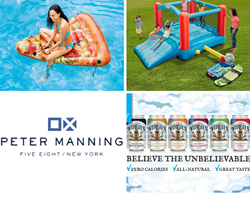 "There's no place like home . . . especially in the summer!"
NEW YORK (PRWEB) May 22, 2018
There's no place like home ... especially in the summer! Lifestyle expert Jeni Bond, from FunTrendsUSA.com, has some great tips on how American families can enjoy a "summer staycation" they'll always remember.
"For many, summer means pool parties!" says Jeni. "Give yours the extra splash they deserve with Intex. They make larger-than-life mega island Flamingo, Mega Duck and Swan floats, and new, photo-realistic food floats, including French Fries, Pizza, Cupcakes and Donuts, which look so good you'll want to take a bite! They're available now at Walmart, Amazon and other top retailers."
"Little Tikes designs toys that encourage kids to stay active and engage in imaginative play. Their new Pack 'n Roll Bouncer, perfect for kids ages two through eight, is the only bouncer that quickly inflates for immediate playtime, then deflates in seconds. It then conveniently packs away into a wheeled carry case bag for easy, on-the-go, fun! It's available now at Kmart, Target and Amazon."
"Adults can enjoy their 'staycations' by getting dressed up and frequenting their local restaurants and nightclubs. For men five feet inches or under, however, looking sharp has not been easy. Until now. Peter Manning NYC designs exclusively for men who wear smaller sizes. Their stylish shirts and outerwear are perfectly proportioned. Visit PeterManningNYC.com for more information."
"Staying cool and hydrated can be delicious with Virgil's. The brand has been the leading all-natural, handcrafted Root Beer in America. Now, it's created Virgil's Zero Sugar sodas that use a blend of natural sweeteners and no artificial ingredients. The new sodas will be available in June at Target and Kroger, in 12 oz. cans, in the following flavors -- Root Beer, Vanilla Cream, Black Cherry, Cola, Orange and Lemon Lime.
For more information, contact: Jeni Bond on Twitter @JeniBondSays or Barry D. Miller, FunTrendsUSA.com at 551-697-3007 or barry(at)miller-weiner(dot)com.